The German luxury marque Audi has come up with the high-performance version of the A4 sports sedan named as Audi S4 Sedan. Its dynamic components and benchmark technologies provide it an edge over the competitors. The pricing for this brand new car starts for $51,400 (starting price) which is available in three different variants, which are Audi S4 3.0T Premium Plus Sedan, Audi S4 3.0T Prestige Sedan, Audi S4 3.0TFSI Prestige Quattro AWD.
Driving and Performance
2018 Audi S4 is powered by a 3.0L V-6 engine that pumps out 354 hp. The power is channeled via an 8-speed Tiptronic automatic transmission. Strong powertrain and rear-biased all-wheel-drive system provide one of the best-in-segment acceleration. Its compliant ride, high-fidelity steering, and super sticky cornering grip are some other highlighted features that enhance its performance and allow the driver to experience an excellent drive.
Audi S4 can be termed as more disciplined and refined sedan but the absence of emotion and sharp handling responses can be proved the beating point here as the rivals hovering around are already better in this term. When it comes to stopping power, the brakes are responsive but the pedal feel can fade away in case you push the brakes a bit too hard.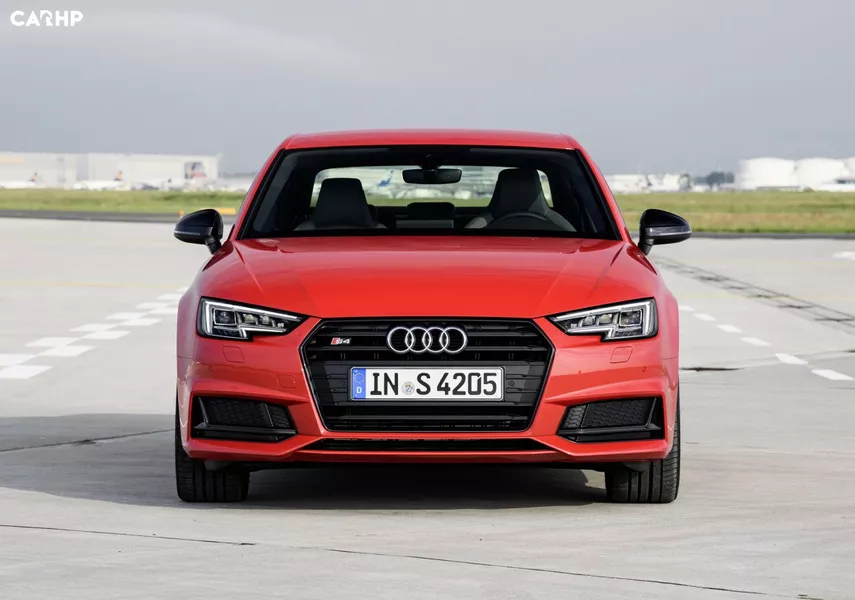 Interior
As per the expectations, Audi offers a wonderfully built interior where the combination of the sport front seats and the S4's exceptionally ergonomic and highly adjustable steering wheel is maintained in a way that would be suitable for different drivers. Unlike other sports sedans, 2018 Audi S4 offers a comfortable door opening for easy ingress and regress. The infotainment duties are taken care by a blisteringly quick touchscreen with audio and navigation. In case you interested in numbers, the touchscreen has a just 0.6-second response time.
Exterior
The evolutionary way of Audi makes the S4 better than the predecessor A4 but somehow it lacks the exclusivity of other sedans like Jaguar XE S and Mercedes-AMG C43. Though its angular shape and subtly creased sheet metal seem competitive, on the other end it lacks the racy curb appeal. This Audi is wrapped in standard front and rear LED lighting and 18-inch wheels with either summer or all-season tires. Buyers can switch to 19-inch rims with summer rubber and Black Optic package with the expenses of $800 and $1400 respectively. The chrome moldings are replaced with black exterior trim and also include body-color mirror caps.
Safety
The engineers with the great focus to safety have equipped Audi S4 with Audi Pre Sense City that warns you by detecting the forthcoming possible collision. This system also has the ability to apply brakes automatically. The Audi Active Lane Assist corrects your actions by warning you as you attempt to drift out of your lane without signaling and nudges you back in line if you don't react.
Audi Side Assist also adds value to the safety features by giving you information regarding the vehicles in your blind spots and audibly warns you if you attempt to change lanes.
However, the plastic pieces which are used to cover the anchors can be a problem for the buyer.
Final Verdict
The upgraded Audi S4 proves to be an evolution over its predecessor A4 and emerged as a fascinating sedan among the buyers who are interested in the sedan with traditional touch having luxurious experience too. In addition the accurate and quick performance can't be on the neglected side. We would recommend the S Sport package for the excellent adaptive suspension.