Do you want to predict and monitor your lifestyle on a daily basis? Here, lifestyle means- your stamina, judgment, emotion, etc. If you're not feeling well and have any problem related to any of the above cycles then you need to check your biorhythm. Don't know what it is? Let me explain you! A Biorhythm is a cyclic pattern of physical, emotional, or mental activity believed to occur in a person's life. For example: if you love dancing and are capable to dance, then it means that the dance suited your biorhythm. On the other hand, if you're not enough capable of doing an activity, then you need to monitor your biorhythm.
So today, what I'm going to introduce you is an app called "BiorhythmΩ ", which is used to know more about your lifestyle. This app has been developed by Jeonghwan Kim on September, 26, 2017 and it's categorized under Lifestyle. Biorhythm requires its 8.0 or any later version of the OS running on your iPhone, iPad and iPod touch. All you need to do is to go to the iTunes Store and buy it for $1.99 only. In this latest version of Biorhythm it has fixed an error that widget doesn't apply.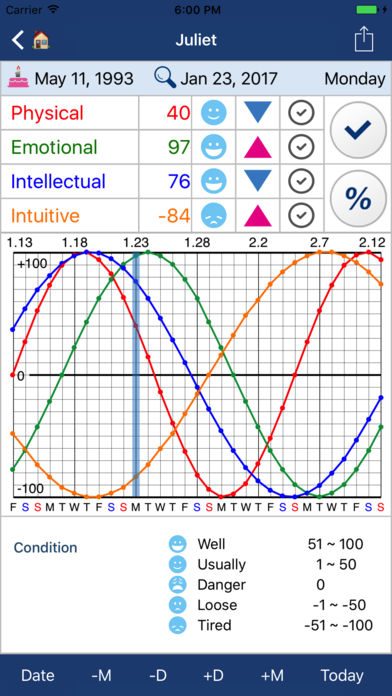 Biorhythm basically tells you about how much of a percent (%) are you today. If your Biorhythm doesn't function properly, then it's advisable to avoid unreasonable activities that you don't want to happen. Biorhythm can be referenced in all the areas of your life such as sports, learning and sales. The three cycles of Biorhythm called physical, emotional and the intellectual are repeated in a uniform pattern based on your date of birth. There is a difference in the activity efficiency or ability depending on the combination of these patterns. This theory was given by Dr. Wilhelm Fliess of Germany in the 19th century. Later on, in the year 1923, Dr. Alfred Teltscher of Austria, studied his  5,000 students and added intuitive rhythms.
This app does a great job of displaying the four rhythms of a user through values and graphs. You simply have to enter your date of birth and the app will automatically calculate and display all the three cycles for the current date. You can also compare with your family members as well as friends to differentiate. Moreover, you can change dates easily to view your Biorhythms on multiple dates. It can list Biorhythms of 31 days.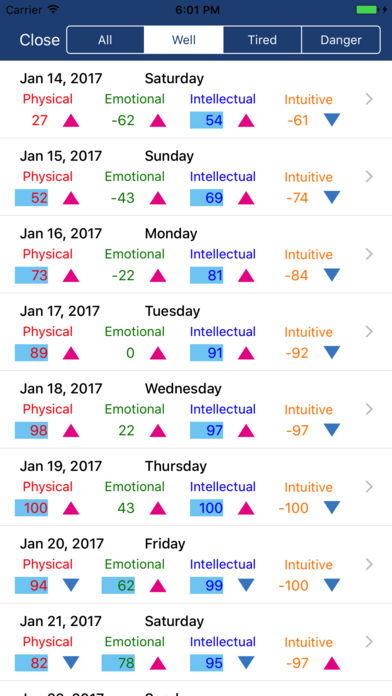 The graphs displayed are very sophisticated and easy to see simple graphs. It provides results with accurate data using formal algorithms. You can send Biorhythm via Messages or email to anyone or yourself. This app has it all with so many extra features unlike other biorhythm apps.
The 4 rhythm cycles can be calculated by some formulas which are shown on the app page. You can check from there and get started with the app! Biorhythm will advise your future. So go for it now!
The Biorhythm app is available on the iTunes Store at a very reasonable price.
PROS: monitor your lifestyle; graphical representation of four cycles; gives preview of future Biorhythms; easy to use app anywhere at anytime; biorhythm integration management of multiple people; accurate results; cheap.
CONS: none.