The most trending topic of these days is the ability to predict your life events. Biorhythms tell how your body and mind would work each day and when you closely observe these rhythms, you can fine tune how your life goes. The technology has given you the power to get these things in your hand. If you need an app to understand the ebb and read your biorhythms, then BiorhythmΩ is there for you.
What Biorhythms say is that human life is predicted by undulations involving four separate cycles that include physical, emotional, intellectual and intuitive rhythms. These cycles differ by every 23, 28, 33 and 38 days. Depending on your birth date, the biorhythm is calculated using formulas.
Just download BiorhythmΩ on your iPhone and mention your birthday. All the calculated biorhythmic values are then later displayed in the app. It puts these values into a graph for your easy understanding. The graph goes by high crests and low troughs along with the smiley to denote the exact state of your biorhythm. The values vary from -100 to +100. The app clearly indicates the dangerous days when the value is 0. When the phases are high the value is from +1 to +100 and when the phases are low the value is from -100 to -1.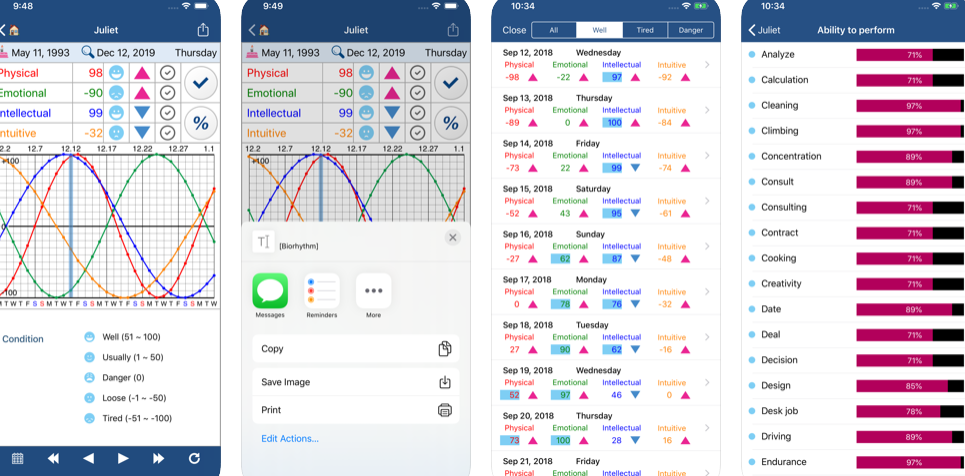 The app helps you to keep an eye on your internal clock and helps you analyse your performance with this graph. It lists the biorhythm for the past 31 days and it helps you to extract dates for the state classification. BiorhythmΩ comes with an extension widget that can be placed on the home screen for your convenience. The calculated biorhythms can be sent through text messages or email. It also lets you save the biorhythmic graph for the day, make a copy of it or print it for future reference.
Using BiorhythmΩ, you can calculate the biorhythm of not just a single person but those of two or more users. It facilitates integration management of 2 or more person's biorhythms and gives a preview of your future. When you have any questions or queries, the team is always ready to get them answered for you as you send them an email via the app.
Developer Jeonghwan Kim has designed the app with a clean and responsive design such that you can get the predictions of your days without many efforts. BiorhythmΩ for the iPhone is available for $1.99 and is compatible with all devices operating on 11.0 or later versions. It is available in 8 different languages and has got a rating of 4+.
Worth Having app – Download the App