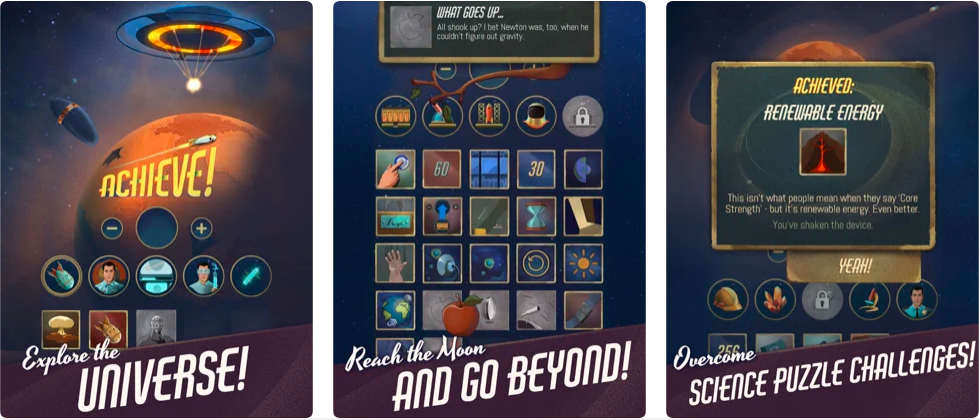 Your life is in your hands. Your success will start increasing exponentially. The positive effects will spill over into other areas, reinforcing the way you think about the world and creating explosive growth. It is always hard to make the first million. After that, making millions is easy.
It is the same way with the path to mastery. At first, even doing simple things is hard, but over time, things get easier and easier and it takes almost no time to learn newer things. You can learn new things about space  with a new game  called Achieve – Discover New Earth
About Achieve – Disover New Earth
ACHIEVE – DISCOVER NEW EARTH! is a game of space and science exploration through a process of unlocking mini-challenges. In the game, using dynamic and innovative puzzles, players have to find a New Earth using their wits and provide a new planet in the universe for the future of humanity.
ACHIEVE – DISCOVER NEW EARTH! takes the players to the very beginning of a race to reach and colonize a New Earth. To do that, they have access to the total sum of human knowledge of science and technology. However, that knowledge must be unlocked if humanity is to reach the stars. To do that, players engage in various challenges and mini-puzzle games, each of which unlocks another achievement. These are based on a huge range of different approaches, from physical manipulation with the mobile device to the use of logic and scientific facts, as well as information from the real world. Once an achievement is made, others are unlocked and open for further exploration. With each of these, players get closer to the ultimate goal of ACHIEVE – reaching and colonizing New Earth!
GAME FEATURES

* INNOVATIVE CHALLENGES that blend puzzles and real-world scientific knowledge.
* ATTRACTIVE GRAPHICS based on the iconic retro-futuristic style of the space era.
* Level of DIFFICULTY THAT RISES SLOWLY and keeps players asking for more
* FUN AND VERSATILE ACHIEVEMENTS that seamlessly blend into one another.
* EXCITING STORYLINE about the biggest quest in the universe – reaching New Earth.
* EXPANDING ELEMENTS OF GAMEPLAY that provide the players with more and more things to do.
* UNPREDICTABLE PLOT of SPACE DISCOVERY with many twists and turns.
ACHIEVE – DISCOVER NEW EARTH! is the ideal mobile casual game for players who would jump onto an opportunity to use science and technology to explore and then colonize space. It offers a perfect mixture of puzzle mechanics, a space-faring story, and an appealing visual style. That makes ACHIEVE FINAL NAME the ideal gaming choice for anyone dreaming of one day hopping onto a rocket and visiting the Moon, other planets, and distant stars!
DISCOVER MORE FROM MAD HEAD GAMES!
Take Away
 Challenges are growth opportunities. Learn and discover space with technology in your hands. Yes with a mobile phone you can play this casual game of Achieve- Discover New Earth in your way and be a creator of your earth just with your strategies.
    Download