AeroMegh – SaaS Platform provides three products that allow you to fly and capture drone data, process drone data, and analyze drone data. AeroGCS is GCS software that assists in the flight and capture of drone data. It is a simplistic and unified Drone Management System.
Fly and Capture With AeroGCS KEA
AeroGCS KEA is a smart and powerful drone mission planner that comes in four powerful editions to meet a variety of business requirements: Standard, Enterprise, OEM, and Defence.
Process with DroneNaksha
DroneNaksha is a well-thought-out platform for processing raw geo-tagged images and producing 2D/3D photogrammetry outputs such as orthomosaics and elevation models.
Utilize PicStork for Analysis
PicStork creates analytics tasks to perform advanced image analytics. It also enables you to build your own machine-learning models for detecting objects in processed images.
AeroMegh Advantages
SaaS Platform  
AeroMegh provides a wide range of Drone Ecosystem services and solutions.
One Bucket Solution
It offers solutions ranging from Drone Mission Planning to Processing and Analysis.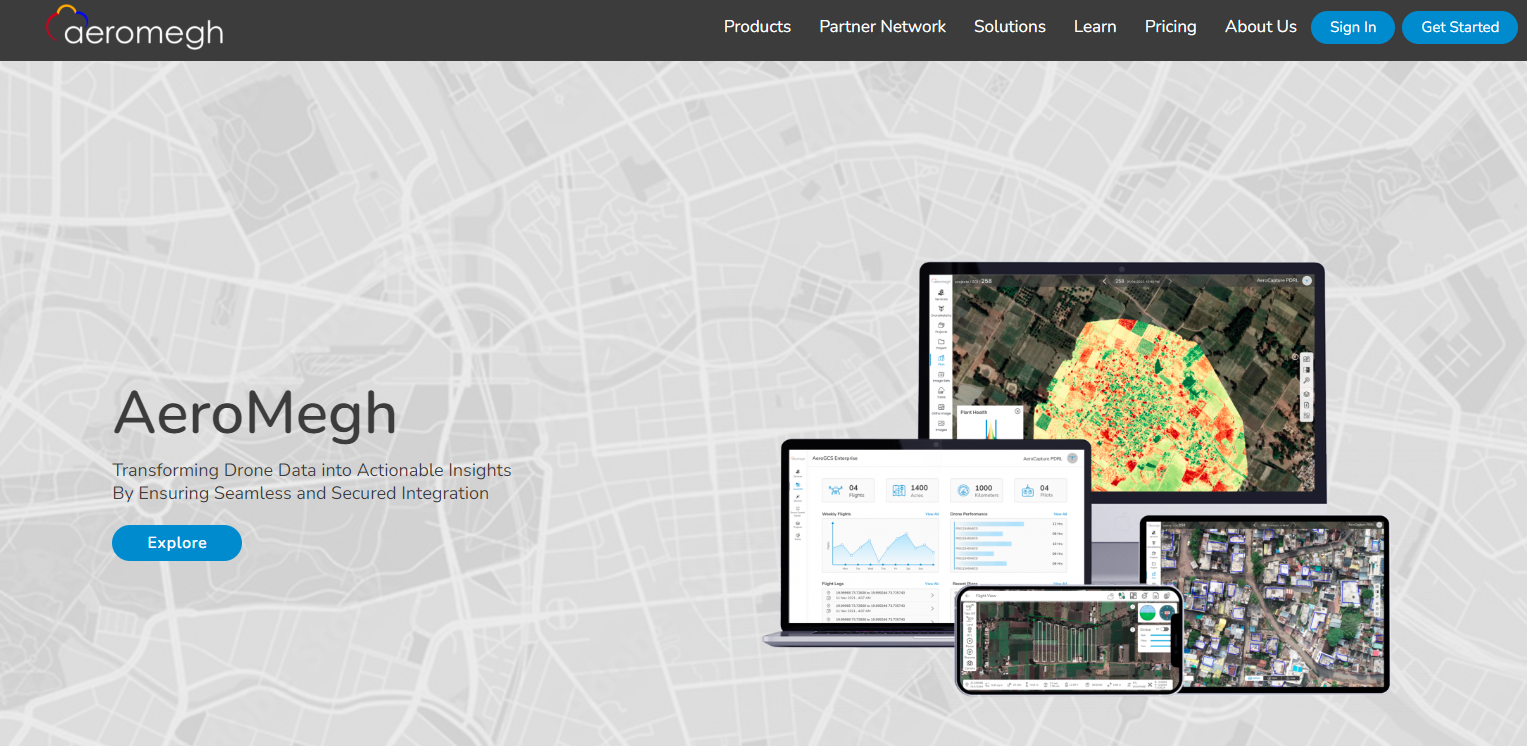 Ensuring Security
It guarantees complete security from data capture to processing.
Pay Per Consume Model
It has a pay-per-consumption module to help with growth by avoiding upfront investments.
Simplest & Unique
Its interface has been developed to be as simple as possible for the user to concentrate on tasks.
AeroMegh is a SaaS platform for transforming drone data into actionable insights provided by PDRL. AeroMegh is intended to provide a complete stack for flying, capturing, processing, and analyzing. AeroMegh enables the completion of complex tasks while saving crucial aspects of life, such as time and money, resulting in more time to live.
Key Aspects
AeroGCS provides project management, allowing each flight plan to be assigned to a specific project. As a client, you would like to guarantee that your flights are appropriately classified and tracked for which client they were flying for.
DroneNaksha was created to provide a one-of-a-kind drone survey and mapping experience. DroneNaksha is an AeroMegh platform SaaS (Software as a Service) for various photogrammetry solutions. DroneNaksha generates other kinds of data, such as the Digital Surface Model, Digital Elevation Model, and Vegetation, in addition to orthomosaics, using numerous photogrammetry algorithms.
PicStork assists in the automation of end-to-end aerial image analytics, from image capture to data processing. PicStork users can bring their data, train detectors, and analyze data on their own.
Final Words
The AeroMegh SaaS platform is intended to provide an end-to-end stack for flying, capturing, processing, and analyzing. It makes it possible to perform drone data analytics with simplicity.