Animaker is video creation software for businesses that allows them to create live-action videos such as a resume, intro, outro, text animation, logo animation, promo, video marketing, YouTube intro, and commercial. Among the key features are animation, customizable branding, social sharing, video capture, text overlay, templates, and rapid creation.
Animaker is one of AppStore's most compelling images and video editors. It provides 100 million stock assets to help you create your desired content.
The Professional Image & Video Editor
Animaker is for all creators who enjoy making content, images, videos, GIFs, memes, greetings, ads, intros, and so on. Animaker is here to meet all of your design requirements. Most specifically, Animaker enables you to bring your content ideas to life even if you are not a design expert.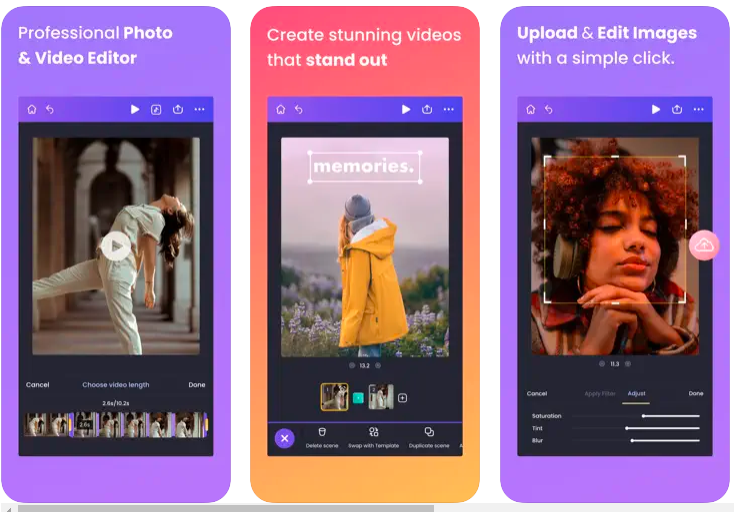 Choose from 1000+ Live-action & Animated Templates
Pick from 1000+ image and video project templates to spice up your content creation. You can also choose from various size formats (such as IG Post/Reels, TikTok video, and Snapchat stories, and easily create and edit projects with them. Whether you sign up for a business or personal need, you will find various templates ready to use immediately.
Create Stunning Videos That Stand Out
The video editing tools were designed with the sole purpose of assisting you in making innovative videos. You can simply add filters, special effects, text animations, intelligent moves, and much more with a single tap.
Collaborate With Your Friends or Teammates
You can share your projects with your friends or teammates using Animaker's advanced collaboration. And collaborate on the same project at the same time.
Choose or Create Your Own Text Animation
It is never easy to select the correct font. We understand this and have made several pre-built text animations available for you to edit and use without breaking a sweat. If you're feeling audacious, you can use the custom text options to create your own text style and effects.
Editable Animated Backgrounds and Properties
With highly customized backgrounds and properties, you'll be spoiled for choice. You could change their colors, resize them, and even flip them. This enables you to make as in-depth scenes as you want.
Add Special Effects to Your Videos
Don't ignore the chance to spice up your content with our unique screen effects. These special effects will make your scenes more powerful and engaging.
Other Key Features
Add Music or Upload Your Own Soundtrack
Try Out Our Unique Filters
Add Stylish Transitions To Your Videos
Share Your Creations Directly To Social Media
Wrap-Up
Animaker Photo & Video Editor app certainly piqued my interest. It was the ideal opportunity to give this a try finally, and I was not disappointed.