Gift your loved ones with an innovative Gift Wrapper
Increase the excitement of your loved ones with all new technology in gift wrapping. Wow!-what a beautiful idea surely technology at its best. This application AR Wrap is one of its kind. I tried my hands on with AR Wrap application on my daughter's wedding day. She was so happy to enjoy the excitement and my gift added a lot of memories to her special day. To my surprise, she immediately downloaded the AR wrap application and sent me a return gift which made my day awesome as well. What a beautiful gesture it is. The best day ever.
Get to know About AR Wrap
Virtual wrap for real gifts
Wrap a real object in a virtual gift wrap. Works best with rectangular packages, flat vouchers and greeting cards
Share the virtual gift wrap with your friends and family. Add a personal touch and feel close to your loved ones even when you are apart. Have fun!
In version 1.2 we added a new feature: wrapping without a real object. You can now create gift wraps. The recipient will see the beautiful gift wrap on a horizontal surface, i.e. a table. This mode is ideal for vouchers and greeting cards.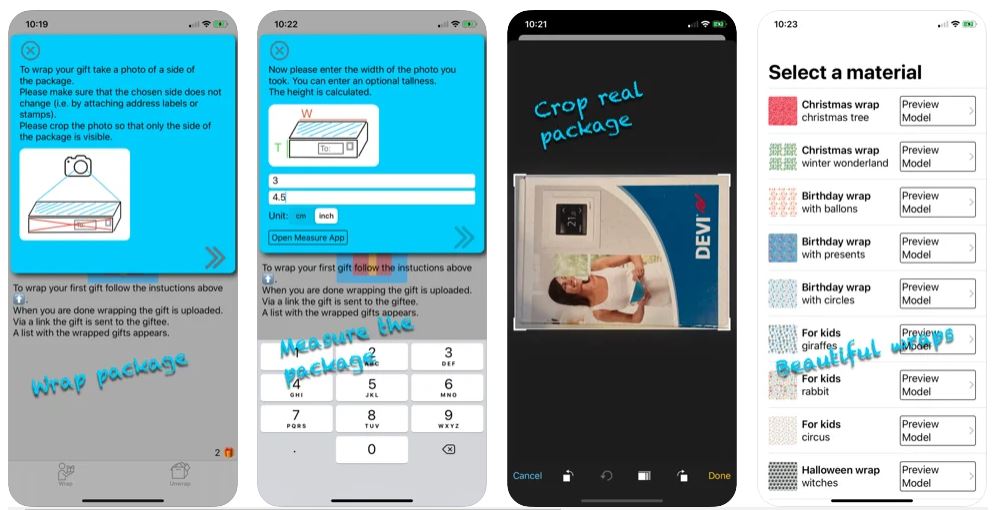 AR wraps – How does it work
It measures the real-world object or just create a gift wrap
Then select a wrapping material from the selection of beautiful materials you can also use your photos as a gift wrap to be unique and create much closeness
Next pick the wrap the real-world object virtually send to the recipient (first the real-world object, then the virtual gift wrap)
And finally, send the link through e-mail, iMessage or What's App
 Unwrapping:
After the recipient received the real-world object and the link to the gift wrap she/he can see the wrapped gift in an augmented reality scene. Naturally, the gift can also be unwrapped.
If you send just a gift wrap the recipient can see the wrap on a horizontal surface, i.e. a table.
 Uses of AR wrap technology
The AR wrapper brings the power of ARKit and ARCore to the web — very strong AR technologies that function in a rather seamless way. The AR wrapper also comes with a native 3D viewer. This is huge, as before we thought users would have to recognize an unknown icon to know that the thumbnail on the site is AR-enabled.
Verdict
I appreciate and thank the developers for such a beautiful application.AR Wraps is worth downloading. This application is a must in everyone's ipad or i phone to surprise your loved ones. Download and enjoy the experience with AR Wraps I am sure you will be a happy person like me and share the same feeling with others as well.
Download :