If you love slots, this is certainly a game to check out. Barcode Slots is the latest addition to the App Store. It has been developed by Damien Naylorwalker and is compatible with iPhone, iPod touch and iPad and requires iOS 6.0 or any later version of the OS. This app has also been optimized for iPhone 5, iPhone 6 and iPhone 6 Plus.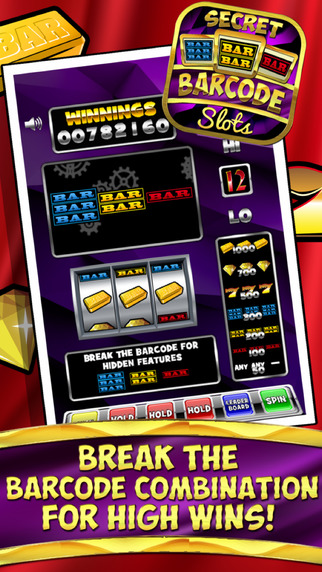 Barcode Slots is a very simple slot game. As you enter the gaming arena, you're exposed to a slot with 3 reels and on the right side you can take a look at the winning combinations. This is a single-window game. So the entire game is designed within this single screen. The colour combinations are nice and lots of flashy lights have been used by the developers to create the atmosphere just like a luxury casino.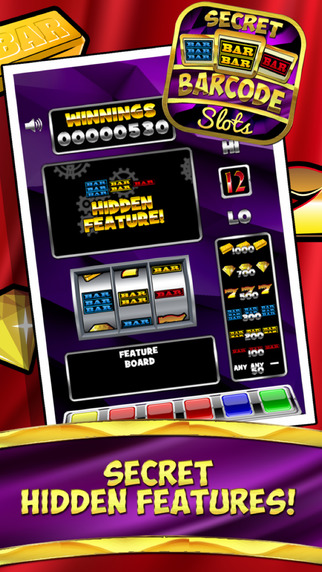 Tap the Spin button to start the slot. When you start the game, you're credited with 500 coins and each pull of the lever costs you 10 coins at once. You may hit the jackpot right at your first step or it may take you several spins to strike your first 50 coins (the lowest winning jackpot). But no matter what your fate has in store for you, you'd be glued to the game instantly. It's addictive because it's quick and you can play it anytime in a quick break.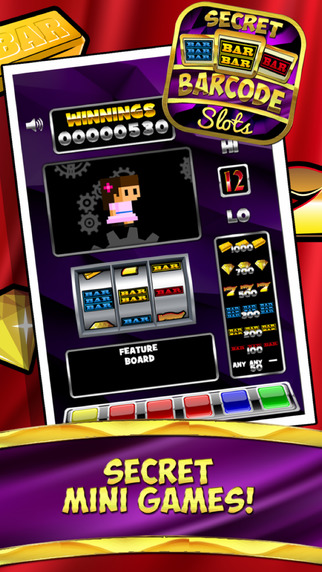 Apart from the usual gameplay, there are some extra features in this slot machine. Here you can "Hold" one or two lines and spin the remaining. Though it takes another Rs.150 to unlock this hold feature, it certainly adds another dimension to this game. It allows you to proceed gradually towards your final jackpot and not a single step is wasted. Once you have two lines of the winning combination, it certainly becomes a lot easier to strike the third line.
Another added feature of this game is the "Barcode". If you get three, two and one bar simultaneously in the three reels, then it'd reveal the secret code and secret hidden features are unlocked. Moreover, there are many mini-games hidden inside and you might get a chance to play them. So while the game looks pretty simple and basic superficially, these embedded elements add it to the group of elites.
Graphically the game has been designed very beautifully. The game is pretty sharp in visuals and while the game has got quite a spark, the touch of elegance is there which makes sure the visuals are overall appealing to everyone. The intuitive interface further eases down the gameplay. So overall, Barcode Slots is an amazing game to have in your app-menu.
The app is available for free in the App Store. As I already told you, some features are paid. But still, you can play the game endlessly and enjoy every ounce of it.
Pros: intuitive UI; beautiful graphics; hidden secret features and mini-games; instant jackpots; free.
Cons: none.
Worth Having App – Download the App