I heard about Cretello – Hire a Freelancer app developed by Cretello Technology launched in Play Store, and it was certainly a head-turner because of the unique concept, which is, at least to me, a perfect app for users. Now that it has made successful impression on Android, I can assure you that it does not disappoint.
Cretello is a reputed service app for fast, reliable jobs in hours, day or night. It wholly assists to make creativity in easy way, enjoyable, and safe manner. They are a freelancing and crowdsourcing community that perfectly connects guest and freelancers. You can hire the best talent, or find work from anywhere in the world.
It also qualitatively verifies personal profiles and listings, maintain a smart messaging system so Freelancers and guests can communicate with certainty. Whether Business owner rushing to get a Job completed with Cretello, users can just tap to request a Freelancer (Cretellian). Cretello also enables freelancers and entrepreneurs to start doing, growing and succeeding.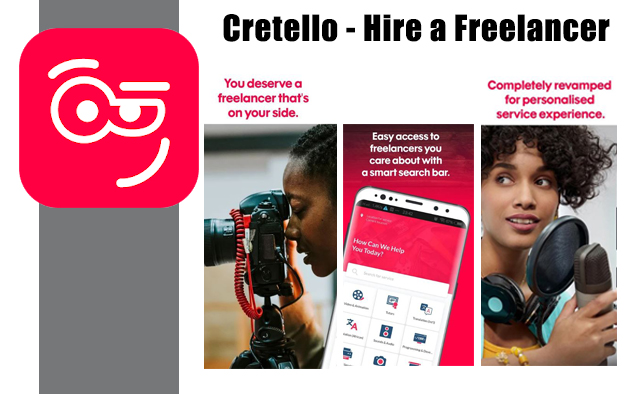 You can select from thousands of forward-thinking, passionate creative freelancers from creative service categories:
Arts & crafts
Graphics & Design
Photography
Video & animation
Sounds & audio, Programming & developing
Corporate
Marketing
Tutors
Whatever creativity you require there's a service for it on Cretello. So requesting a Freelancer (Cretellian) is simple and here's how it works:
Just open the app and select category
Find your next freelancer in a micro-moment with just a swipe and a tap
The app uses your location to help you search for a Freelancer (Cretellian) closer to you.
Read our Freelancers' ratings and customer reviews to pick the perfect match for your project
Select a Freelancer (Cretellian)
Book and Request for a Job
Enjoy open communication on all fronts, discuss payment, at all times
Payment can be made by Bank Transfer, cash, PayPal, and more.
After the Job, you can rate the Freelancer (Cretellian).
When you download Cretello, you can hire anyone, anywhere from around the world to help in finishing up your work. However this is applicable only for Nigeria country specific and users can use beneficially in all aspects.
Verdict
If you are searching for a quality new mobile app arrival which has some uniqueness into the mix, then you should check out Cretello – Hire a Freelancer app developed by Cretello Technology.
DOWNLOAD FROM PLAY STORE :