Are you searching for any solution for collaborating with your team virtually especially during these tough times? Deskle is a tailored workspace for visual thinking, research, and collaboration. It's a visual collaboration platform for your business, developed by Deskle, Inc. It has collected experiences from experts in various industries and fields to build this amazing platform.
With this platform, you need to spend less time visualising and brainstorming your business processes. You can even create a simple and effective visual presentation within minutes, without wasting much time on the designing and focusing on what matters most to you. You can build layered as well as live content using Deskle platform virtually. Isn't it? You can arrange your ideas quickly into actionable graphics which can be very impressive.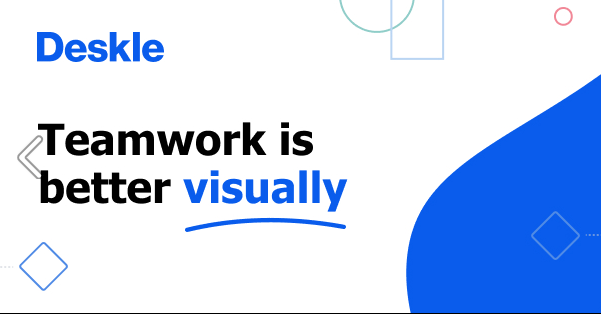 You know so many people helped in creating this amazing platform such as: rockstar project managers, agile innovators, digital marketers, modern engineers, and freelancers. All of them bring together their distinct knowledge and skills to help your organization scale, collaborate and iterate faster in real-time. You can improve the perception of visual narratives and create unique storytelling experiences by adding interactive features to your content. You can integrate your established workflows and explore the visual framework for multidisciplinary collaboration.
Deskle helps you to reduce meeting times, missed communication, and unnecessary micro-managing. Moreover, your team can solve communication issues and sharpen team vision in an engaging and user-friendly manner.
Your workload and burden will be reduced and you can expand your team's potential.
Features of Deskle:
Improves workflow.
Enhance execution and delivery management within agile teams.
Virtual whiteboard solution for your business.
User-friendly interface.
Visual collaboration platform for your team.
Safe and secure
Saves time and efforts.
Work efficiently.
Real-time data fetching.
Gives 14-day free trial.
Overall, Deskle is easy to start and use. You don't require any special training to start with deskle. You can read the guides and learn about it. The app is very simple and has an intuitive interface which simplifies onboarding.
The app is very flexible to use, and it can be easily integrated with your favorite tools, support SSO and provide on-demand real-time data fetching and export. You can create popups, tooltips, nested layers, modal boxes and add engaging transitions with a few clicks.
Deskle platform is a safe and secure whiteboard solution for your business. Its infrastructure is designed to meet the highest security standards, assuring that your data is safely stored and your privacy is protected. You can start using it on its official website and start your 14-day free trial. After that, you can pay for what you want!
Give it a try now!