Do you know Life is just like a puzzle? There are so many ups and downs in it. But the person who has set his goals and ambitions wins over life. Sometimes, it takes your whole life to win it or a minute to lose it. Isn't it? Just like that, mind puzzles require a lot of attention and focus to be solved. Today, we are going to introduce you such a mind game which will definitely blow your mind. Yes, it's none other than "dispair", an original mind puzzle which has been developed by Siegfried Schulz.
dispair is a mind game designed especially for the children to enhance their thinking and improve arithmetic. Children can stretch their brains a little and sharpen their skills. If you've played it earlier on your iOS, you may have noticed some flaws and didn't enjoy it. But, this time it has been recreated on the Android platform with improved features. For example, it has simplified the user interface and changed the app icon inspired by the Google colours.Now, what the game is all about? dispair is only about finding a correct sequence of letters respectively colours using a minimum number of attempts and time. Basically, the meaning of dispair is divided into two parts: dis means distance and pair means neighbourhood. You need to pair the letter correctly with the neighbour ones.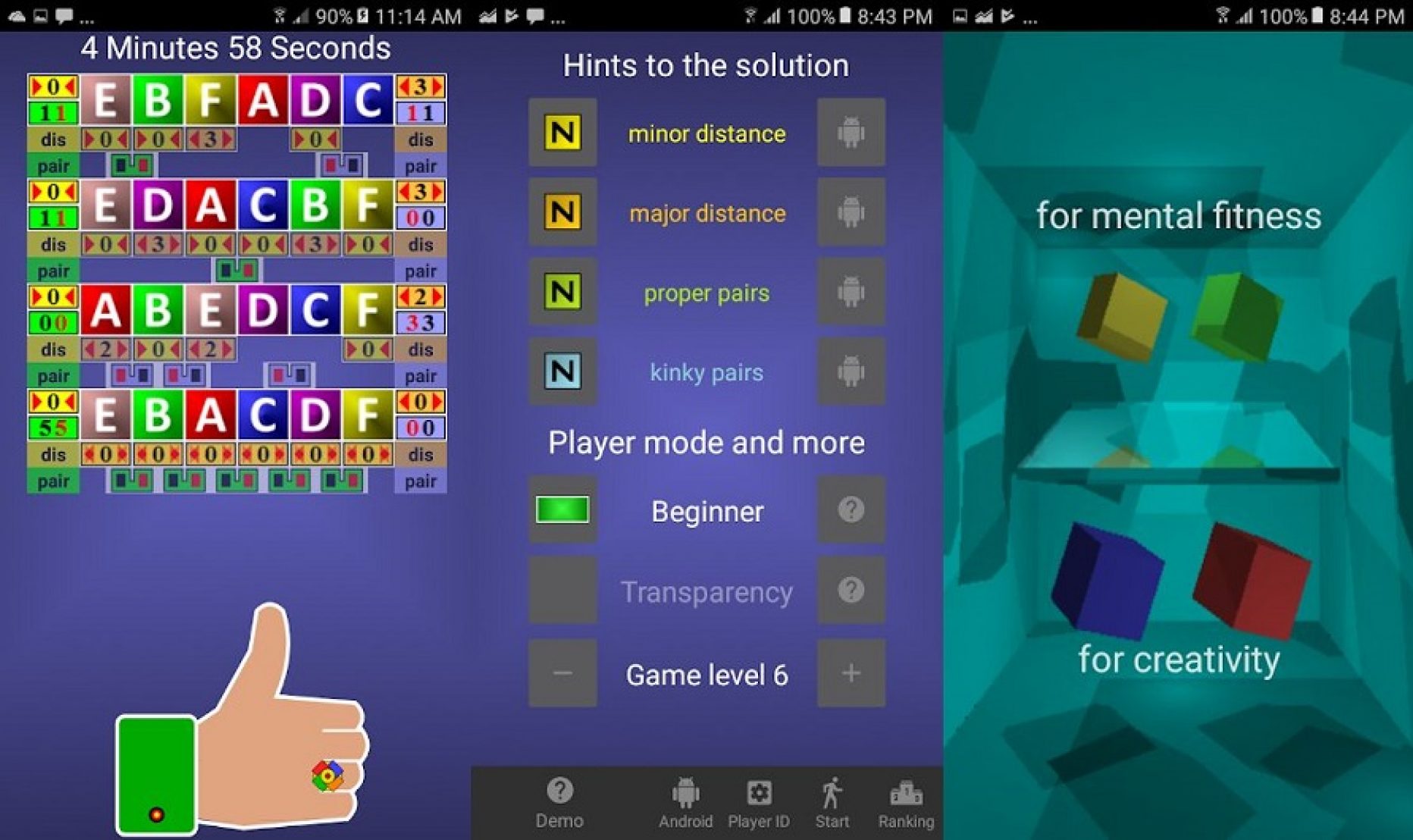 dispair can be played in 2 modes i.e. beginner and professional, and has 5 levels. The entry-level 4 is free and you can unlock the other levels 5 6,7 and 8 that are offered as in-app purchases. There are some additional features of the gameplay such as a transparency option, demos, hint selection and simulations. You can check or uncheck the options according to your requirement while playing. You can also create your own Id on the app and see your progress if you wish to. Your ID will be saved locally in the SmartPhone memory and can quickly be used in a new start of dispair.
dispair offers a further high interesting wealth of game variants, especially for the beginners and children meant for easy and short entertainment. The concept of tiered pricing for level purchases and posting subscriptions is very good. The User Interface of dispair can be a little confusing, but this time, the game is available in 8 languages: English, German, French, Spanish, Italian, Portuguese, Russian, and Thai, whereas for dispair on iOS it only offered English and German. Moreover, you can play dispair on the plane without having an Internet Connection, when you've made your purchases before.
On the whole, I would say that dispair is a new challenging brain teaser with rankings of performed games on the Internet. So you can save your game results on the Internet and compare them with the game results of other dispair players. It has the potential to reach the degree of popularity of other comparable brain teasers like Sudoku.
So enjoy the full fun of dispair and train yourself now!
This is the beta version of dispair and its full version will be introduced very soon. Do check it!
Pros: exciting gameplay; unique concept; robust; full of fun; enhances your speed and thinking; suitable for children; brilliant graphics; free as well as in-app purchases.
Cons: in this initial dispair version no saving in dispair rankings without Internet connection; hints details of transparency option are ignored in demo animations and simulations of this initial dispair version.
I will give this app 4.8out of 5 stars.
Best Game to play – Get dispair today