Do you love changing your desktop background or wallpaper of your mobile phone according to your mood or due to any particular occasion? Well, I always get inspired by the creativity around me. Moreover, I also love to take photographs of the wildlife, our environment, etc. and post them on social media. For this, I got a new tool where you'll get high-quality images and also post the photographs belonging to a particular category so that other people can see them. This tool is a software application called "Dreamstime". 
Have you ever heard about Dreamstime? It's basically a stock photo agency for 15 years in the industry. Dreamstime is one of the early players in the micro-stock business and are amongst the top companies in the space. It offers a library of over 84 million royalty free stock images and has affordable prices and quality of service. This app has been developed by Dreamstime. It has been compatible with all the android devices having the latest version of the OS.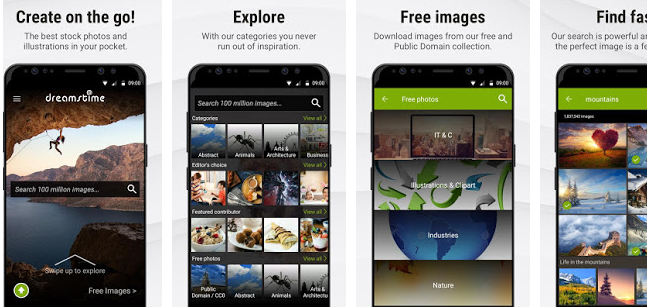 Dreamstime app is the world's largest community, having 25 million users, 100 million stock photos. Isn't it a good achievement? With the Dreamstime app, amazing royalty-free images are just a tap away. Once you download the app, you need to setup your account in a few easy steps very quickly.
You can do advanced search and zoom-in of over 94 million professional photos and illustrations.
Moreover, you can save images to your favorites to download now or later and share images very easily. It's effortless, intuitive navigation makes finding stock photos easy. The photos can be quickly and easily downloaded on any smartphone or tablet.
The images are of high-quality and they belong to the largest community in stock photography anywhere. Suppose you archived some photos and you need them later on, then don't worry, you can download the archive and invoice history always with an ease in your hand. With Dreamstime, creative ideas are now possible anywhere. It has got over 20 million pros creating media that you'll definitely love!
With the Dreamstime, stock photography app inspiration is always in your pocket. You can easily browse, search, download, and license amazing images from professional creators worldwide directly to your smartphone or tablet. It has standard and extended licenses for multiple usages and users.
Overall, I would say that Dreamstime is an app, especially for the youth. It's an easy to use app with brilliant graphics. The app is of great use and meant for entertainment only. You will definitely love and adore it!
So get the best stock photos whenever you need,  by installing the Dreamstime app now! Because creativity happens when you least expect it!  Sign Up for a free account of Sign In to your existing account now!
The app is available for free in the Google Play Store.
Pros: explore more than 80 million stock images; all the categories covered; HD quality photos; advanced search; easily download the images; save images for later also; free to download.
 Cons: none.
Worth Having App – Download the App