If you are one of the persons that miss the old days when you could sit and write your intimate thoughts, the new Edge Diary app it's for you, with a classic tone of writing, this app going to remind you your childhood or when you were young and write all your problems or success on a diary.
This is a real diary, you can access to them by a password if you don't want to anyone read it and you can keep your thoughts in your iPhone or iPad safe in every moment you want to read it, they are lock for other people, and others persons can't read it.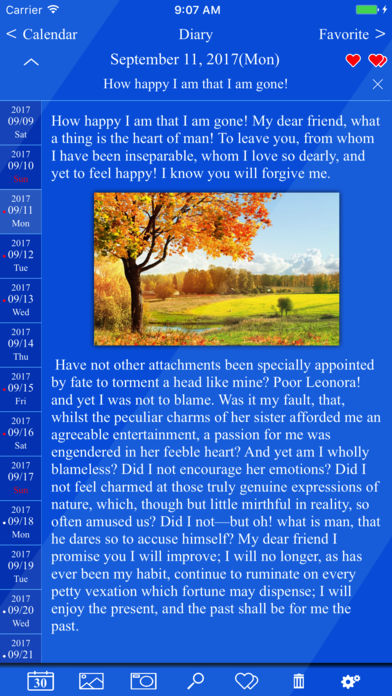 This is a wonderful app and it comes with options like put an image on your dairy while you are writing, they offers a variety of serenity pictures that going look perfect with your thoughts and poems that are just reserve to yourself.
For the moment, the app is just available for iOS, in later of iOS 10.1 and is just compatible with iPhone and iPad.
One of the greatest things that this app has is all the languages that are on it, it has English, Koren, German, Spanish, Japanese, Russian, Simplified and Traditional Chinese and many more that made this a very diversity app, the creators are working in put many languages in the next version, but if you have it already this comes with the update.
Edge Diary is one of the best app that I used, even that this operation system is very simple, it's like a have a word page, but is more than that, is also let you put some photos to remember that time forever, and get into the iCloud, that only you can manage.
You can change the colors, the image, the photo and the language, the only thing that I think that left in this amazing app is change the font, because they have one very sober that maybe the new generation didn't like it.
The colors in the back not always are the best and it could be more safe if there will be a password for every entry that you write in the diary.
It looks more like a blog than a diary, but it has the essential of been writing in paper and you can have your personal touch on it.
If you like an app that remind you the days after school that you come back to your room and write about your friends, pets and family you can download it on your iPad, the functionality is better on it.
For iPhone is more practical, but it can be more risk if someone can use your phone, especially if you are reading and anyone can take your phone.
In conclusion it's a nice app with need more security for the one that uses in their phones and ned more adds like change the color in the back and the font.
The seller Masattoshi Takahara made a great work on develop an app like this, but it has some little issues than need to work on it.
But if you like the nostalgic apps this one is for you, also you can recommend it to your childhood friends for return to the old times.
Worth Having App – Download the App