People who love to explore modified and advanced version of their devices and applications have always been great fans of Cydia. Cydia has been an amazing platform which provides free access to plenty of modified apps, themes and games to its users. The only requirement to access Cydia is that users need to jailbreak their devices for that.
Though, the two main shortcomings of Cydia that users face are:
With the release of newer version of iOS and improved security measures in them, it has become difficult to jailbreak iOS devices and thus subsequently using Cydia.
Jailbreaking devices has never been the safest practice to do since it gives access of phones to third party apps with unknown sources code. And thus, this can pose serious security concerns for the users.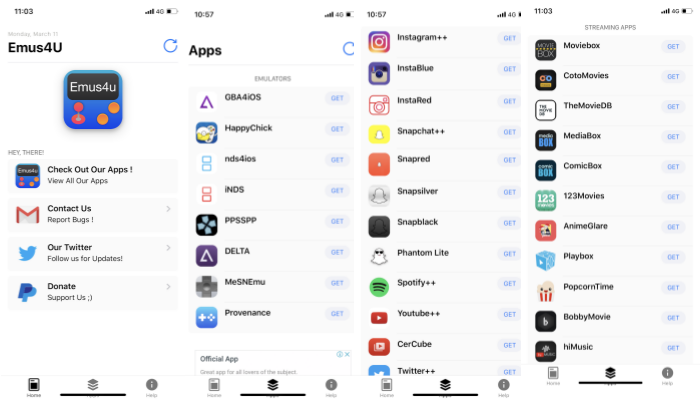 In the view of above shortcomings, it has become imperative to use third party apps which provide us access to all the modified tweaks and apps but without the need to jailbreak our devices. One such third-party installer is Emus4u. Let's see how it compares with Cydia:
Download Emus4u:
To download Emus4u, following the simple steps given on this link you can easily download and install it on your iPhone/ iPad.
Advantages of Emus4U over Cydia:
It provides free access to its users of a number of emulators, modified apps, games, themes, wallpapers and various ++ apps as well.
Emus4U does not require any jailbreaking and thus it is much more secure than Cydia to install in our devices.
Emus4U is compatible with newer versions of iOS as well. Thus, it can easily be installed and used without worrying about the iOS versions. Also, Cydia is not yet compatible with iOS 10 and beyond, Emus4U is the only option left for modified apps and themes lovers.
The developers of Emus4u keep it updated with security features and new apps and content.
Emus4U is extremely easy to download and use.
Emus4U is compatible with almost all devices.
The security of your device is not compromised.
Disadvantage of Emus4U over Cydia:
Cydia undoubtedly provides access to thousands of free resources in terms of apps, themes, games and features to its users, while Emus4U is a little limited in terms of apps collection. Few systems change apps also cannot be accessed through Emus4U.
Also, since Apple considers, Emus4u as an unofficial app not installed through Appstore, it keeps on revoking the certificate to run it and thus the apps keep on crashing every few days. Extra Anti-revoke apps are needed to install in the device to rescue this situation.
Comparing Emus4U with Cydia really tells us that Emus4U is a great alternative in the absence of Cydia. It lacks only in few areas like the number of apps available but then, that would be the case with other third-party app installers available in the market as well.
In view of all these factors, Emus4U comes out as an extremely capable alternative of Cydia. So, start using it and experience the world of amazing features on your device that you always dreamt of.