If you're searching for a total fun and quality way of sprucing up your everyday life of Eve – augmented teen girl living somewhat normal lives in a cyberpunk-themed city then you'll definitely want to take this Eve_IO app developed by JaymesBaker for a look.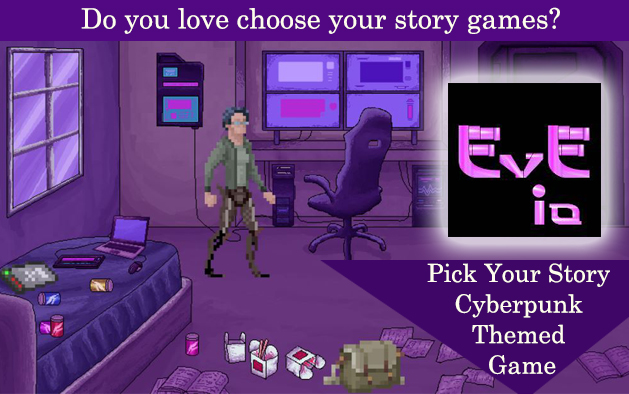 If you love selecting your story games then you'll adore Eve_IO. You can enter the weird, yet fun adding your story game with a unique concept in your daily gaming that professionally blends adventure story & educational content into one. With this app of Eve_IO you can enjoy the thrill and excitement of the story games while learning.
You can live In a Cyberpunk World
Pick your path & make your story adventure is located in the fun cyberpunk everyday life of Eve. With this cool, witty & smart teen girl is ambitious to rock here social life, but also get her degrees and learn. You can also guide her and pick your own story, and see where the bite sizes arcade adventure will take you. Moreover the adventure story cyberpunk game has various endings based on your answers.
Exhibit Good Thinking, Knowledge & Learn
More importantly like any smart girl eager to learn, Eve will get in situations where she needs to solve problems and give relevant answers. This is where the original educational story game concept comes into play. You can solve problems related to economics, maths and more, while having fun getting help from other people in Eve's surroundings.
Feature of Ad-free Original Storyline & Concept
You can professionally make your story with the fun augmented character while enjoying the exquisite vaporwave/aesthetic art style and original soundtrack. It is a truly mobile game for the gamer on the go with no additional cost, ads, micro-transactions or data collecting.
Why you should select Eve_IO?
They are cool augmented teen girl character
You can pick your story gameplay
Highly educational questions included
Presence of vaporwave/aesthetic art style and original soundtrack
It is 100% private & ad-free
There are more chapters to come and this particular title is chapter 1 of what hope to be a well-received saga of bite-sized arcade adventures for excitement. So download now and live the exciting super-interesting life of Eve.
Verdict
If you are searching for a quality new mobile app arrival which has some uniqueness into the mix, then you should check out Eve_IO app developed by JaymesBaker. The app is wholly qualitative for me to use with the best features. I highly suggest if you are looking for exciting features, you will love what Eve_IO app has to offer.
DOWNLOAD FROM PLAY STORE:

Promo Codes :
40T9XV72V5ZTYS23KRZ665P
E679GG2ZY84C30VFC0LTMG7
C6ZYJMHBCRBQPHSLCJKEMZA
L736439XQTVTMRK5BBHY6RE
VB2Z5UFFYMLYAYFK5STRXYN
DQYNGNVHY2R1REP2JLTL5T6
TWN3GZHN32VD1QCJA5DECRA
S24MT2B4DWX3XWBZ9QX3PCS
FA4K0Z7ADDTBU5C8CKPB5P7
KUW01D95TB2C3D7N54HG5EV