Bitcoins and altcoins are gathering the attention of a lot of investors all over the world. Many people have started earning interest amount using cryptos while some of them are interested in short-term trading. Investing in bitcoins help you reap greater benefits and all you need is a proper platform to buy or exchange them. On my search for an exchange app that offers a wide range of cryptocurrencies to buy, I came across Changelly.
Powered by Fintechvision Limited, Changelly is a fully functional mobile app for both iPhone and Android devices. Around 150 cryptocurrencies are available for exchange and each account is protected with a 2-factor authentication. Changelly is a secure reliable and most convenient platform when it comes to buying or exchanging cryptocurrencies anytime and anywhere.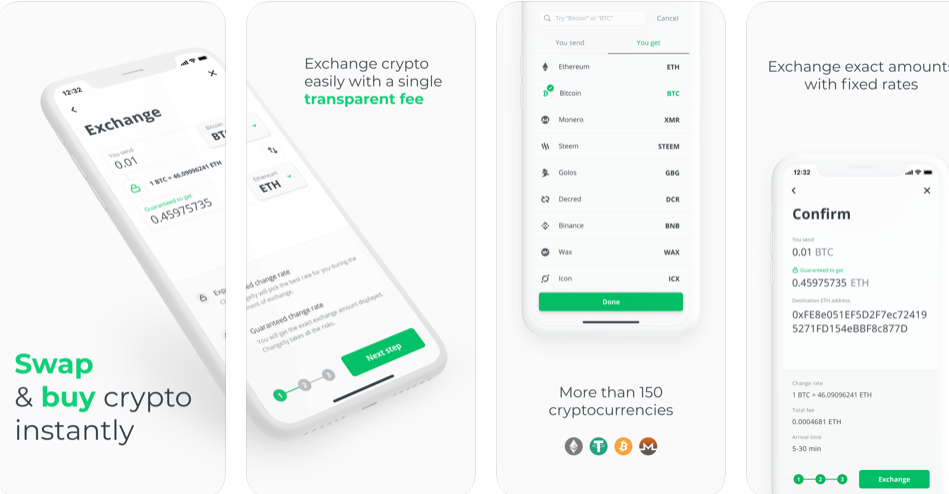 You can create an account for free using your email id and there you go to process your transaction in a few taps. Choose the crypto pairs, agree with the commission and transaction fees, send the crypto to the account mentioned and get money automatically transferred to your wallet in a very few clicks. This helps you keep your account protected so that you do not lose your money or data to those prying eyes.
When you use your email id to protect your account, you can gain access to your transaction history, password editing and other account settings. Alternatively, users can also make use of their Twitter or Facebook id to create an account. This finance app helps you to buy and exchange cryptocurrencies and get them into your account in just a few minutes.
The many cryptocurrencies like Bitcoin (BTC), Bitcoin Cash (BCH), Ethereum (ETH), Litecoin (LTC), Ripple (XRP), Dash, Dogecoin (DOGE), Zcash (ZEC) and many more altcoins, STABLECOINS: Tether (USDT), TrueUSD (TUSD), DAI, Gemini Dollar (GUSD) and TOKENS like Maker (MKR), Basic Attention Token (BAT), Huobi Token (HT), Paxos Standa, etcetera are exchangeable through this app. Changelly works with several trading platforms and they accept 3 fiat currencies for buying crypto, namely: USD, EUR, GBP.
Changelly offers high exchange limits with a 24/7 live-chat support. Their customer support is very awesome and it is convenient to trade with different cryptocurrencies. The team is active on Twitter, Facebook, Telegram, Reddit and Youtube. When you follow the Changelly blog and social media channels, you can know for yourself the latest crypto trends, cryptocurrency price predictions, guides, and tips.
Swapping through Changelly works smooth and I will continue to use it in the future as well. I would suggest anyone trading with cryptocurrencies to download Changelly this instant and have a nice swap with it.
Worth Having App – Download the App