The best thing about being creative is to find the right opportunity and to work with other interesting people of similar sort. When your professional network is surrounded by collaborators of a similar sort, you can create a happy career with the more talented and trusted people around you.
I and my friend are music professionals. We have been looking out for different methods to showcase our talents to the public. The advent of advanced technologies and the Internet has bought the audience and creatives closer. Though there may be so many apps to add flavour to your different talents, there can be nothing as unique as GigMePro.
GigMePro is a very useful app and a must-have for any artist. It falls under the Social/Social networking category and is available for both iOS and Android users. This free app helps you connect with consumers in a short period and it cuts out the charges that you have to give to the middlemen. You can either be a creative or a consumer, both of you can benefit from using this. On signing up for an account using a Facebook or Email Id, you can start using GigMePro. The app lets creatives create a profile of their own. The consumer can look for creatives and start booking shows with them.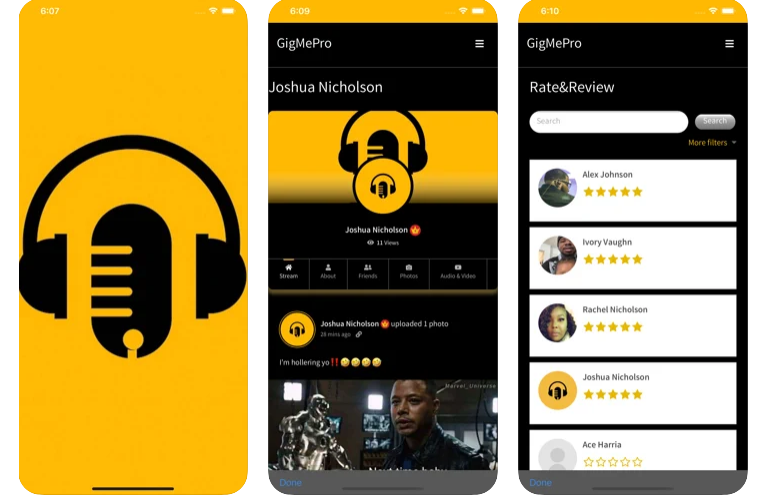 As creatives, I and my friend found this app so helpful. It let us present what we were good at and display the photos and videos based on our work. This helps us gain ratings and reviews from the consumers who love our talent. Apart from this, the app assists to make bookings along with fellow creatives and also decide on our book schedule for the month. It has greatly cut out the charges that we would have to pay the middlemen.
GigMePro gives access to consumers to creatives of all genres. They can consult or book services directly through the app/website. Kudos to the creator Joshua Nicholson, for coming up with this great app. It has many sections to get the task done the easier way. There are filtering options in the app that allow you to sort creatives based on city, state, roles and gender.
GigMePro is one awesome social networking/booking site for all creatives and artists like musicians, singers, poets, professional dancers, etc. It connects the creatives with new opportunities in just a few seconds.
Worth Having App – Download the App