Be one with the trend and start playing with the chat stories instead of books. Playing usual games will no more be boring with such interactive chat stories. Fionas Secret – Chat Story Game gives you the perfect fun interactive experience. It is so addictive that you will love it.Play this addictive love chat story game, build your own story. By making choices, unravel the mystery.
Get full control of the story that you are texting. Make decisions and create your own journey with Fionas Secret – Chat Story Game.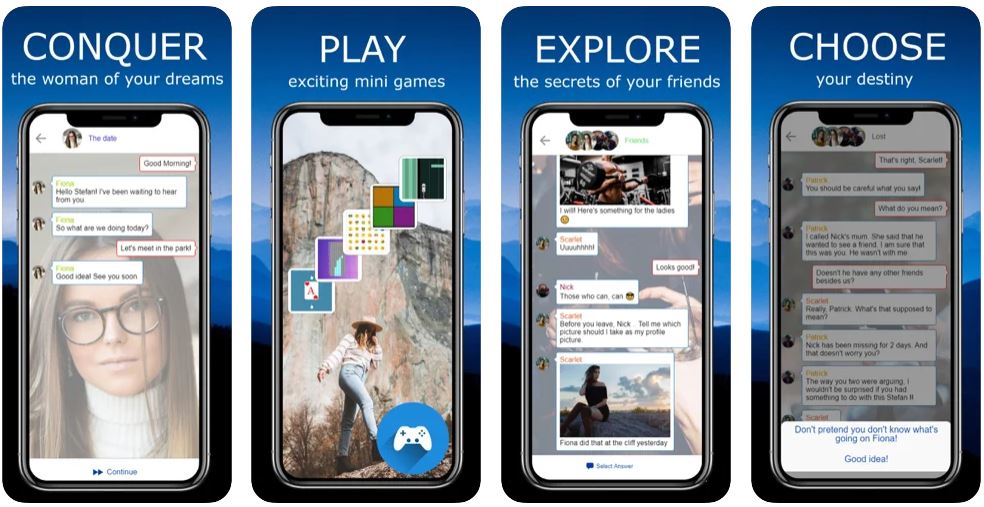 Every chat chapter is an exciting and thrilling adventure. Fionas Secret – Chat Story Gamehas its twists and leads you into unexpected and surprising, even dangerous situations.
To summarize the story: Fiona is the woman of your dreams. As you try to get closer to her, you don't realize the danger you put her and yourself into. Nick a very attractive friend, also tries to get closer to her. Suddenly he disappears, without a trace. You are suspected too. So can you solve this mystery? Are you able to protect your loved ones? Will you find the love of your life?
So take your choices carefully, because you'll decide the ending of this story. Fiona's Secret is an interactive chat game. You chat through various chapters and experience an exciting story. Every decision you make will have consequences.
Be careful, and become the director of your exciting adventure. Fiona's Secret is written in a gender neutral way, so you are able to play the story regardless of your gender.
Features of Fionas Secret – Chat Story Game:
Addicting Story.
Every story chapter is exciting in its own way
Enjoy the story for FREE.
Create your own story
Make your own choices
Unravel the mystery
I conclude to say that the overall feel of the game, and the stories make sense and something I never experienced before. All in all though… Pretty cool game! The developers have made some smart choices in creating something different and interactive to spend your leisure time.
DOWNLOAD FROM PLAY STORE AND APP STORE: