Searching for a new game to be obsessed with? Look no further than the Final Fortress – Idle Survival Game, brought to you by Alley Labs. This addictive game lets you build a strong fortress to fight back against evil zombies that have taken over humanity. With the goal of obtaining key resources like gas and other survivors, you'll become hooked on this app in no time. Whether you want to climb up the leaderboard or are just trying to pass some time, the Final Fortress – Idle Survival Game will definitely become one of your favorites.
You can get started playing the game fairly quickly. Download the app from the App Store or Google Play (since it's available for both iOS and Android), and then enter your name to make sure your scores are logged on the leaderboard. This idle game focuses on clicks – all you have to do to advance is click on each floor of your fortress to earn points. You'll be earning crucial resources for your team, including gas, diamonds, and other survivors to add to your group. Each new level lets you build your fortress floor by floor, including weaponizing your tower and fighting back against the zombies that come at you. But make sure you're on the lookout for blueprints that can help you unlock special rooms and additional bonuses.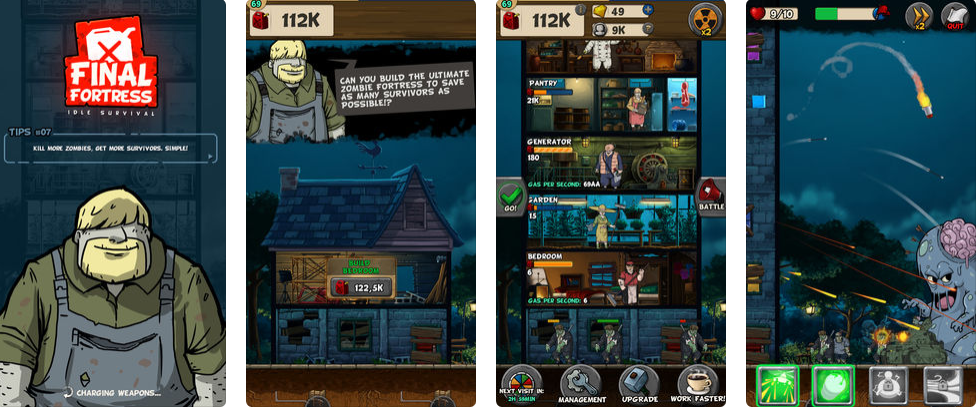 Once you've completed the lower levels, you'll continue to advance to more challenging obstacles and adventures (like heading out into the wilderness to find additional survivors for your team). Your goal should definitely be to add more members to your team to help you earn more gas. Keep your eyes open for awesome boosts like Radioactive YOLO and Coffee Time that provide you with income and productivity boosts. You also might get a peek at a door-to-door salesman (they even exist in the apocalypse!), who will offer you a spin on a lucky wheel. Just make sure you're always on the defensive – those zombies can come out of nowhere and can even fly!
Idle clicker games aren't for everyone. Some gamers might get bored after a while if they're  used to more complicated challenges and, if you're not willing to spend on in-app purchases, your gaming will become a little restricted. But if you're interested in inviting some friends to play with you, you won't notice these aspects, as you'll be too focused on creating the best zombie-fighting team possible.
Get introduced to your new favorite game by downloading the Final Fortress – Idle Survival app today!