Do you want to give a present/ gift to a very special person, but don't know a clue about the gift. Nowadays, people prefer to buy things on their own and don't like choices of other people according to me. They are fond of getting gifts but we don't know whether they will like it or not. Either you ask that person and get their opinion about the gift or purchase on your own. But, there is no charm if we disclose the gift to that special person already. So how should we surprise our special ones? People also send Gift cards on the various shopping apps. But do you know $1 billion Gift cards worldwide is going unused in a year! Either people forget about their Gift cards received on their shopping apps or any other social media app or they are lost. So there is no meaning to send gift cards.
One other brilliant solution is GiftYa which is a simple, personal and a convenient tool to send gifts to your near and dear ones. The app has been developed by GiftYa, LLC in the shopping category. Giftya is compatible with the iPhone, iPad and iPod touch having iOS 10.0 or any later versions of the Operating system. This current version of the app has improved experience for new user users linking their first GiftYa. There are UX updates and some bug fixes as well.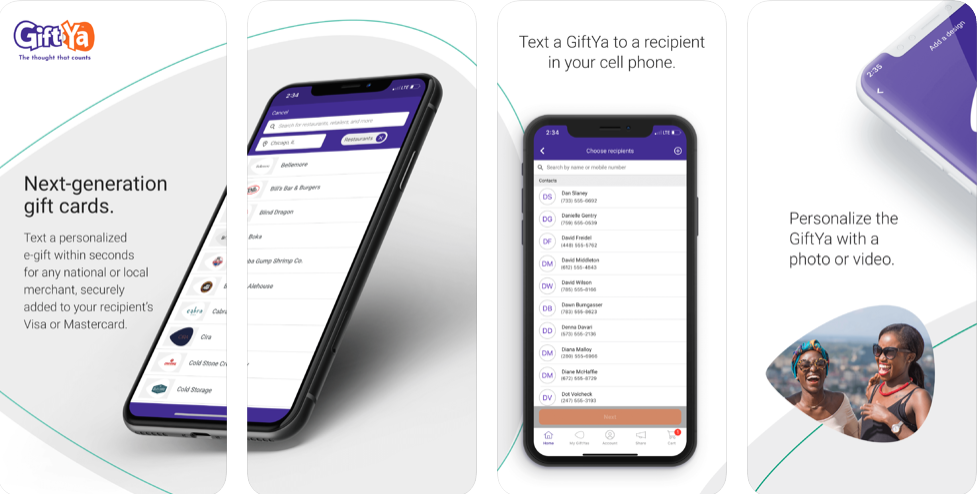 GiftYa is a personalized gifting app that reinvents gifting. It's a beautifully presented thoughtful and personalized gift that can't be lost or stolen and doesn't lose value which is not like a Gift card that is sometimes lost or goes unused. If you genuinely want to give some gift to your friend or a relative, you can send money to such a platform where the person can easily access it. Otherwise, do not bother yourself. GiftYa promotes only about sending gifts in a new and better way.
The process of sending a gift to another person is very simple. You can choose from any merchant, anywhere and select the amount you wish to give. Personalize your GiftYa with a photo or a video message selecting a pre-designed wrapper and send it to your recipient's phone within seconds. You can schedule it for later as well. Similarly, if someone has sent you a gift, you can link the GiftYa you received with your credit or debit card in seconds. You can make a purchase as you normally do and your account will be credited the amount you spend until the GiftYa is used in full.
With GiftYa, you can send a gift for virtually any merchant in the U.S from tip national brands, to local restaurants, online shops and more. The most amazing thing about GiftYa app is that it links the gift to the recipient's credit or debit card so that the gift can't be lost or doesn't go unused like gift cards.
Overall, GiftYa is a must have app for the current generation. Get it now from the iTunes Store for absolutely free of cost!
Happy gifting!
Worth Having App – Download the App