People often feel lonely and like they don't have any friends. But what if there was a way to just talk to someone who is also feeling lonely? Random Chat is a new app that lets you do just that.
Random Chat has been designed to be a place where people can go to talk about anything they want, without being judged and without having to worry about who they are talking to. You can chat with strangers, or chat with someone you know from your contacts list.
What is Goodnight: Voice Chat & Stream?
Want to experience deep, late-night talks instead of swiping left and right every night before you sleep? Lonely at night but can't decide who to call? Find YOUR soulmate at Goodnight!
Try Goodnight, an instant random voice chat app, and join our 8 million users all around the world.
Voices create feelings, and feelings create love. All your connections are just one click away. Dating simulator–make meaningful connections with real people.
Every day and every night; 24 hours for free.
What are you waiting for? Start making meaningful connections with real people NOW!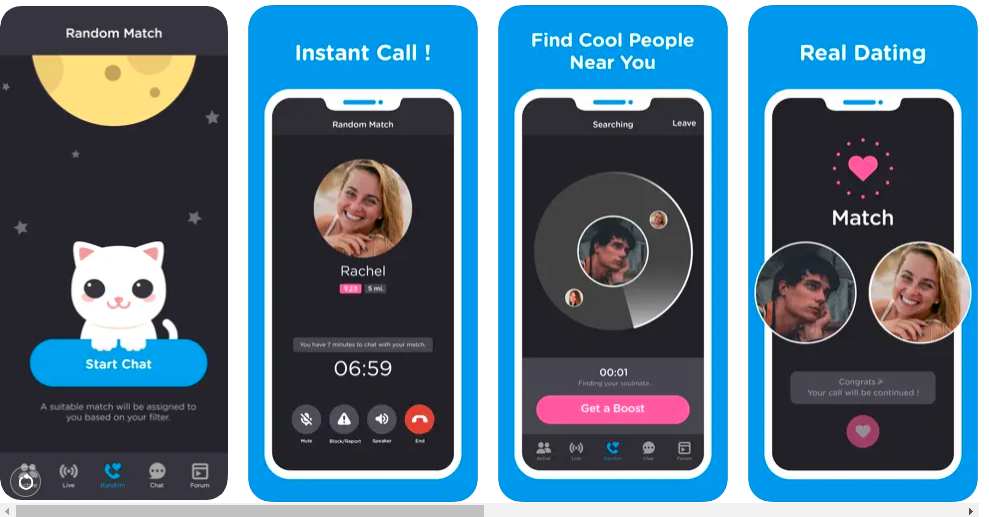 What we provide to help you find your soulmate:
Voice chat instantly. Get matched after.
No pictures, no texts– just voices. Forget about judging or being judged based on looks. Just listen and talk. Add your interests and the languages you speak to perfect your matches. After the initial 7-minute call, match with your partner to show that you are interested and become friends.
Go live. Chill with friends.
Start an audio stream or join a stream room. Share your interests and talk about your day. Support streamers by sending them gifts and greeting them via the text function. Alone at home? Stay in a stream room and let others' voices accompany you.
Engage with the Goodnight community.
Share your life updates at the Forum and celebrate with your friends. Have a burning question? Make a Post and let them answer for you. Like to sing? Upload your audio file and earn Likes. The Forum is the perfect place for you to share your secret talent and kickstart your influencer career.
Stay safe while having fun.
Enable "safe mode" to optimize your experiences with others! Remember, we want YOU to be in control of the connections you seek.
Goodnight provides the above services completely free of charge. You decide whether you want to talk to friends you've just met or invite your best friends to the app. It's your space to express yourself! We also offer optional subscription packages (Goodnight Disco, Goodnight Boost, Goodnight Supermatch) for you.
Want to experience more of Goodnight?
Subscribe to "Goodnight Disco"!
– Unlimited Boosts: Always get to the first in line in Random Match.
– Call Active Users: Directly call users without matching.
– Get 3 Waves Everyday: Text users instantly and get more responses.
– Location Swap: Travel anywhere in the world and chat with locals.
– Unlock Match Record: No more regrets – find your lost connections!
– Unlock Friends' Profiles: See what your friends on Goodnight look like.
– Ad-free Experience: No more annoying Ads on Goodnight!
Take Away
I've been using Goodnight for a couple of months now and I'm really happy with it. It's a great app to have if you're feeling lonely and want to chat with someone late at night, but can't decide who to call. The best thing is that the chatrooms are open 24/7 so you don't have to worry about waking up your friend or family members in the middle of the night!