There are tons of games that most people around the world play on their mobile phones using game apps. There are lots of Android and iPhone apps that you can download from the Google Play Store and the App Store. Most people are drawn into playing games on phones for everyday entertainment. That's why gaming companies and game developers are constantly developing new and advanced games.
Junglee Rummy, one of the most talked-about game, especially in India, isn't a game involving jungles but the card game of rummy. For a brief overview, Junglee Rummy is a gaming app for iPhones that can be downloaded from the App Store for free.
The Junglee Rummy game was released way back in 2012 and the game has made great progress since. It is the card game of rummy, which is based on skill. It features a first-person game view and a real-time in-game chat room that enables players from different countries or geographical areas to interact with each other during games. It is a graphical and highly immersive game.
Junglee Rummy uses state-of-the-art encryption and advanced security systems to ensure the safety of players' money and data. Cards are dealt absolutely randomly using a certified RNG system of international standards to ensure all the games hosted on the platform are absolutely fair.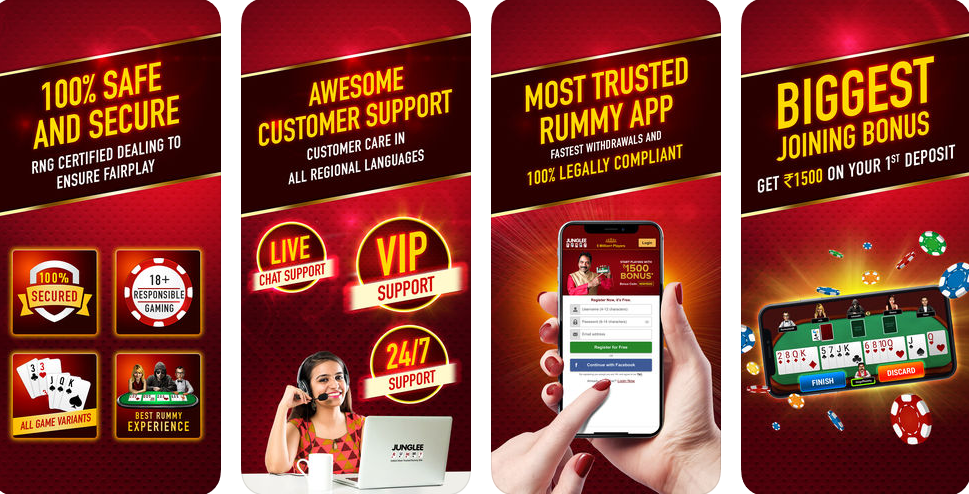 How to Play Junglee Rummy?
On free installation of the game and free registration, players automatically receive free practice chips. Players can register with their email addresses or their Facebook accounts. Players also get instant free cash and a welcome bonus. In addition to that, players can also win money as bonuses by inviting  friends. The app has a very easy interface and players can pick, arrange and discard cards easily by dragging and dropping them or by clicking on the buttons on the screen. People who are new to the game can sharpen their skills by playing free practice games before playing cash rummy games.
In addition to free and cash games, players can also play rummy tournaments that have no or small entry fees but whopping big prizes. Moreover, players get loyalty points on the basis of their total wagering.  These loyalty points can be converted into money.
Here are the pros and cons of the Junglee Rummy app.
Pros
The game app is absolutely free to download, install and use.
You get a big welcome bonus. You can also make extra money by referring your friends and thereby winning referral bonuses.
Free chips to play practice games.
The KYC and encryption systems ensure a safe and secure gaming experience for users.
The design of the app is user-friendly and you can pick, arrange and discard cards by dragging and dropping them or by clicking on the advanced buttons on the screen.
The appealing graphics, unique player avatars and the enhanced gaming environment on the platform greatly enhance players' gaming experience and give them the feel of playing rummy in a royal casino in the real world.
Cons

The game consumes a bit of battery power.
You might face some download issues if your internet connection is too slow.
Final Verdict
Given the great features of the game, there is still no harm in trying out out-of-the-box game. If you like card games, Junglee Rummy is for you.
Company Website Link-
App Website Link
iphone app Link –
https://itunes.apple.com/in/app/junglee-rummy/id1386059227?mt=8
Video Link –
https://www.youtube.com/user/JungleeGames
Android Link –
//play.google.com/store/apps/details?id=com.jungleegames.rummy&hl=en