With technology taking over different aspects of our lives, parents are usually left worrying about the dangers their children are exposed to especially with online access. The use of social ,media and advancement of mobile phones makes this wore since it make it harder to monitor and control what the child gets exposed to. Although some apps are available for such type of monitoring, Kidgy parental control app stands out from them due to its many functionality abilities and amazing features.
Phone book
Not only do you get to view all the people your child contacts with this feature, you also get to see their conversations such as emails and text messages. You therefore don't have to worry about the dangers posed by strangers.
GPS
This feature provides the ability to see every place your child visits whenever they are away from you. In addition, you can restrict specific places and get notifications when your child visits them without your knowledge.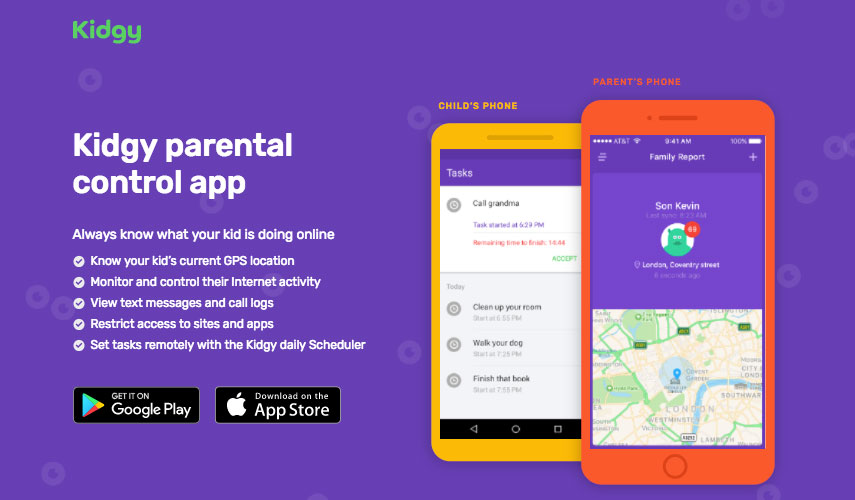 Panic button
This feature solves the worry problem every parent goes through when their child is away. You can set a panic button that your child uses to contact you easily when they need you. This button is also connected to the GPS locator that automatically allows you to see where they are whenever they use it. The alert you get is instant giving you the opportunity react appropriately in time.
Adjustable settings
Other than the factory settings that come with the app, you can change any setting you want to get an action you prefer. You can monitor specific actions or all and set up tasks you expect them to compete. The best part is the notifications you get with each setting such as task completion notification.
Pros
It's easy to use from download to installation, which is an attribute that most apps lack. With kidgy parental control app a user can easily understand the steps required in using it as well as all the features and their uses. This makes it very understandable even to novice users.
Although the app is available for free making it easily accessible, one can also pay a subscription fee in order to use more features. The fees vary according to one's preferences and can be paid in monthly and yearly modes or three months payments.
Easily adjustable rates is also another advantage of this app. A user can cancel a subscription when they feel they no longer need it.
Cons
The subscriptions are usually automatically renewed, which can be an inconvenience to some people in case they forget to cancel. The requirement to cancel at least 24 hours earlier can also be an inconvenience.
Conclusion
Every parent can use the features of this mobile application to ensure the safety of their children. In case of any problems, one can contact the owners of the app and get excellent customer service starting with instant feedback. You can adjust the settings of the app to suit any device regardless of the operating system that your child is using. With all the amazing features and great customer reviews this app has received so far, it's a great app that every
parent can benefit from.
Worth Having App – Download the App