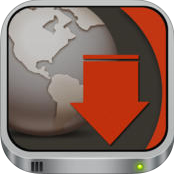 Have you been looking for a download manager for your iOS device that can take care of all kinds of downloads including music, videos, photos, PDFs and the like for you? Your search ends at L0v3 Internet Download Manager. This iOS app comes equipped with a Photo Viewer, Music Player, PDF viewer and Video Player. To add to the delight, it also has an inbuilt browser! What more can you ask for from a single app?
Every feature of the app has been designed excellently to give you the best. The download manager comes with super-fast download speeds and always downloads with the right file names. You can download multiple files at the same time as long as the number does not exceed 10. All this can happen in the background while you continue your other tasks. In case a download is interrupted at any point of time for any reason, you have the option to resume it from where it was interrupted. You do not have to restart the download.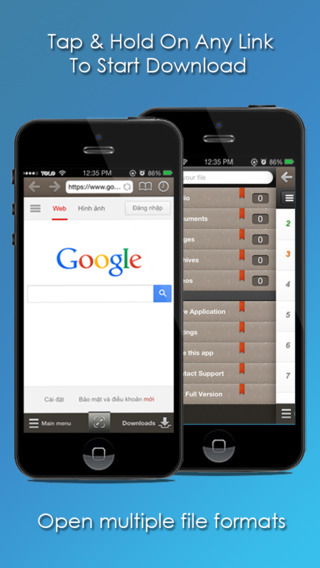 The web browser is as good as the usual Mobile Browser. You merely have to tap and hold on an item to download it. It allows you to save pages offline for later viewing, irrespective of whether or not they include images. There is support for history and bookmarks both. The file manager has folders and allows searching by the name of files. You can easily delete, rename or move files. ZIP files are supported as well. It also supports full screen viewing for documents, which includes all common formats such as rtf, pdf, doc, ppt, txt, html, and xls.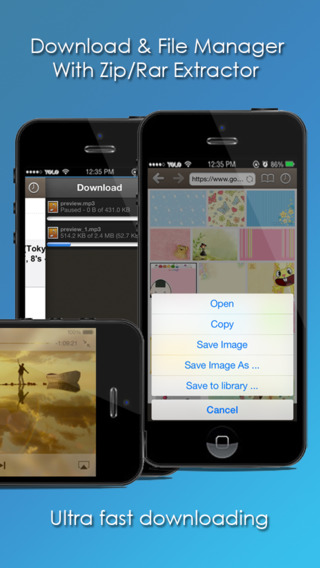 The music player supports a wide variety of file formats including aac, wav, mp3, m4a. You can create a playlist from a folder and allow it to run in the background. The artwork image is also displayed while playing. Usual options like repeat, shuffle, repeat and control in lock screen are available. It does not automatically play the next song once a song is over. The video player supports mp4, m4v and mov file formats.
The app also comes with a fabulous photo viewer built in. you can swipe to your left or right to switch photos while viewing. Alternately, you can view photos in the slideshow view. Photos from it can be saved directly to photo albums. Switching to fullscreen mode requires only a single tap on the screen. You can always zoom in and zoom out and view thumbnails of the photos.
All said and done, this app is really good for music lovers and very good for downloading music. It does what it advertises and does that well. The download manager allows fast download with ease. On the down side, there are a lot of ads that keep popping up and annoy. You can't save videos on the camera roll either. Considering all the features, it's quite hard to believe that it's free! All you need is an iOS device with iOS 6.0 or higher.
Good: Wide variety of features, fast downloads
Bad: Annoying ad pop-ups, does not switch to next song automatically
Worth Having App – Download the App