People who speak more than one language improves memory, problem-solving and critical-thinking skills, enhanced concentration, ability to multitask, and better listening skills. There is an amazing way to learn  German without spending a penny in just your mobile phone to improve your job opportunities.  If you are a blogger,  learning this language can end up being genuinely important for you. German sites have a solid presence on the web.
How could you learn German ?
It is not difficult as you think. You can learn in your mobile itself. Learn German is the perfect app for the beginners and the intermediate German speakers.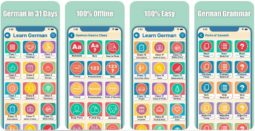 Why Learn French for Beginner?
100% Free German Learning
100% Offline
No Account Needed, No Sign In, No Sign Up
You will learn German from Scratch, No prior knowledge of French needed.
Free French Translator Included. Translate anything, anywhere, whenever you want.
10,000+ French Vocabulary
Fun and effective game like lessons.
Presently With Free French Translator
What does this Learn German app contains
1. Lessons
Courses
Audio
Activities and
Quizzes.
French Alphabet, phrases, vocabulary, pronunciation, parts of speeches, grammar and many more
The App is divided in several classes as described below.
Class 1: Basics Contains Following Topics
German Alphabets, Alphabets Quiz,Vowels Theory, Vowels Pronunciation, Numbers Theory,German Numbers Audio,  Numbers Quiz,Noun,Pronoun,Verb,Adjective, Adverb, Preposition,Conjunction, Body Parts,Fruits and Vegetables,Colors,Family Members,Clothes, Profession, Personality,Shops and Places,Frequently Used German Words,Sets of Vocabulary
Class 2: Greetings
Study List,Slide Show,English to German Reading Quiz,German to English Reading Quiz,English to German Listening Quiz,German to English Listening Quiz
Class 3: Polite Expressions
Class 4 : Praise
Class 5: Days, Months and Seasons
Class 6 : Climate
Class 7 : Time
Class 8 : Common Questions
Class 9 : Directions
Class 10 : Instructions
Class 11 : Health and Safety
Class 12 : Shifts and Pay
Class 13 : Around the Office
Class 14 : Animals
Class 15 : Tools and Equipment
Class 16 : Measurement
Class 17 : People
Class 18 : Crops and Plants
Class 19 : Holidays and Sympathies
Class 20 : Agriculture
Class 21 : Food and Drink
Class 22 : Love
Class 23 : Physical Appearance
Class 24 : Conversation Starters
Class 25 : Internet Terms
Class 26 : House
I conclude to say that Learn German is the only application that helps to manage your cognitive processes. It will be helpful for the students to learn multiple languages.
It is an investment in your future, regardless of your age and master German.
Download from the App Store and Google play store