Often, we share pictures that we take naturally and are spontaneous and simple. If we wish to enhance our looks, we can make use of the advanced editing and enhancing options available in the variety of apps in the store. These features are so powerful and you will be surprised to see how well they work and how easy they are to use.
Given by the seller ADVA Soft GmbH, TouchRetouch belongs to the Photo and Video category and provides great results when it comes to editing your photos. It gives you the most interesting options and lets you eliminate all the unwanted stuff from the images without ruining them. Objects, lines, meshes, natural blemishes, fine-tuning, retouching, and a lot more can be achieved with this app.
TouchRetouch is given to you by a team of professionals who are like-minded and enthusiastic innovators and aim in bringing to you the apps that create magic in your photos and save your time. The app asks for no subscriptions and there will be no ads or in-app purchases. They will never ask for your personal information and there will be no quality and EXIF data loss. It helps you professionally edit your photos with much ease. There are tips, guidelines, and in-app tutorials on the app to help you with your editing works. When you need assistance, you can contact the team at support@adva-soft.com or submit the contact form on the website.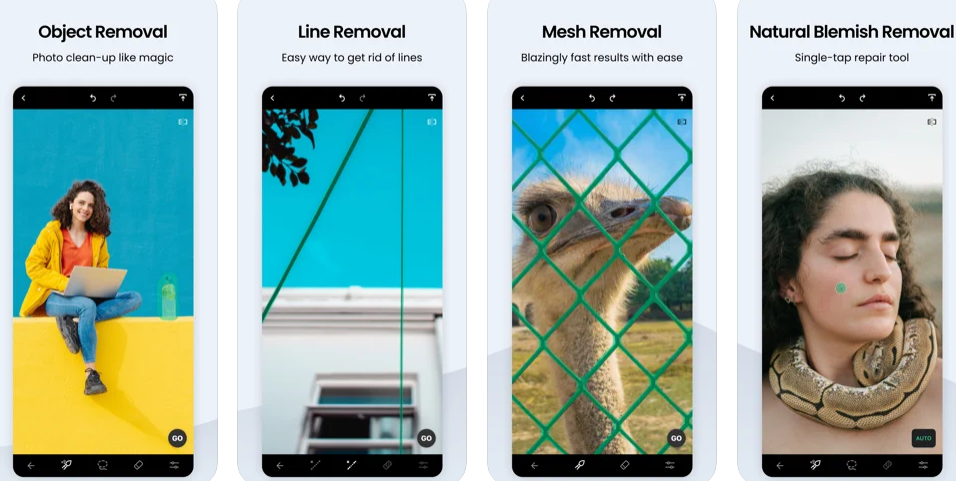 It comes with import and export settings and allows you to save the images to your phone. Users can remove telephone wires and posts, power lines, surface breaks and scratches, human-made objects like stop lights, street signs, trash cans, etc. Whatever it is that you feel is spoiling your photos, you can remove them. Remove photobombers, pimples and skin blemishes, and other distractions. The Object Removal tool comes with an option where you select either Brush or Lasso, mark the content to be removed, and then tap the 'Go' button. Defects or duplicate objects can be removed by the Clone Stamp tool. Stamp size, hardness, and opacity can be adjusted as per preference.
TouchRetouch ensures that you get your money's worth and it is one of the best photo editing apps for both iOS and Android. The app is available for a price of $3.99 and is compatible with Android 8.0 or later versions and with iOS 13.0 or later. It is available in the following languages: English, Arabic, Czech, Dutch, French, German, Italian, Japanese, Korean, Polish, Portuguese, Russian, Simplified Chinese, Spanish, Traditional Chinese, Turkish and Ukrainian languages.
Let your images look incredible with this great app.
Worth Having App – Download for IOS – Download for Android