There are an infinite number of restaurants and cuisines that can be selected. Primarily, this reputed Local Foodism app will assist you in limiting your options and supporting your local economy. Trying to eat locally has become increasingly common, and this app is all about getting back to the community's roots. They share your passion for food, and users adore the "only the locals know" restaurants even more.
They can help you find where the locals eat, whether you are at home or planning a trip. Choose a cuisine style, and they will present you with several options. Even though they focus on local restaurants, you will only see options from restaurants that are not large, national chains. They are here to support the foundation of the restaurant industry and provide you with options that will assist your community in thriving by supporting small to mid-sized operators.
Essential Features of Local Foodism
If a sponsored restaurant matches your search criteria, you can view their daily specials and any special occasion deals they may be trying to offer. They also have a section where you can see all the sponsoring restaurants near you if you want to try something different.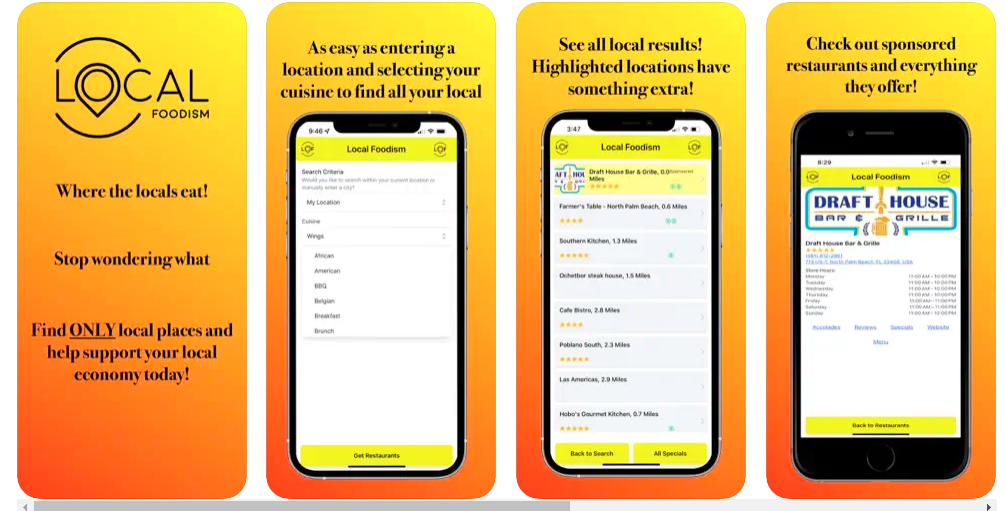 You'll be able to view their most recent 5 reviews, their hours of operation, and, if they're sponsored, their specials, any accolades they'd like to brag about, a link to their menus (if published), and a link to their website (if issued). Each restaurant has a unique story and is here to help you tell it.
With over 50 cuisine styles to choose from, they are convinced you'll discover what you're searching for. Also, they are constantly adding new cuisines to the list so that you can stay updated on the latest trends.
List of Cuisine Options to Choose From
Around Me, African, American, BBQ, Belgian, Breakfast, Brunch, Buffet, Burgers, Cajun, Caribbean, Cheesesteak, Chinese, Cuban, Diner, Ethiopian, Filipino, and much more to pick.
Final Words
Everything is packed with quality features for global users and the developer's successful release on the App Store; we trust that they did a splendid job with Local Foodism.