Are you interested in playing a puzzle game with lot of fresh features? If you are craving for some game that would offer a good pastime and at the same time keep you immersed in challenges at every new level, then this is the one. Offered by Elephant Jump Ltd, Magic Marbles Bubble Shooter of version 1.0, is an unique app.
The app comes with a storyline, in which the animals of the Faraway Land are under attack by the evil wolves. The heroic cat, Luna helps save all the animals and protects the land.
As all the other puzzle games, Magic Marbles Bubble Shooter incorporates level based advancement. All that you have to do is to face the challenges in one level in order to proceed to the next level.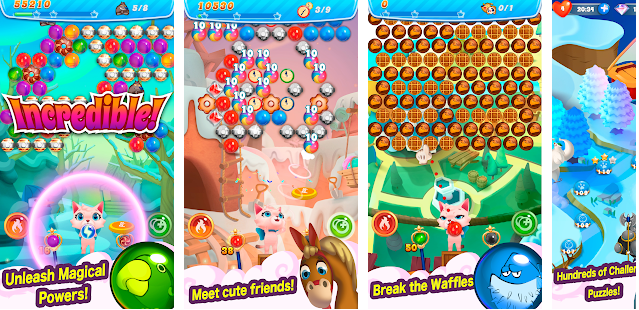 The objective for the player is to pop-up two or more similar bubbles and clear the play area so as nothing is left behind. You have to match the bubbles either horizontally, vertically or diagonally  to clear them out. Each level comprises of bubbles of various models with many magical powers waiting to be gathered by the player. As you pop more bubbles at a lesser time, you get more stars. Magic Marbles Bubble Shooter displays a 3- star reading at the top left hand corner. The magical powers attained, the lifelines left, animals saved and the diamonds and coins collected are all clearly kept track by the app. The mail box icon in the game displays all the notifications. The app's internet connectivity lets you to sync the game among various devices.
The bouncy and reflective movements in the app provides an awestruck gaming experience. The amazing graphics and intuitive interface of the app is an added plus. Magic Marbles Bubble Shooter is definitely a keeper to all those puzzle game lovers as it offers them sheer fun for hours together with more than 50 levels.
There are numerous bubble shooter apps available in the Play Store nowadays. What makes Magic Marbles bubble shooter different is its gripping storyline, colorful and easy to use interface as well as the ability to unleash the various magical powers. One other defining aspect of the app is its developers dedication that has made it perfect for those who just can't seem to get enough of bubble shooter games. The app's fascinating story will be loved by everyone of various age levels.
Magic Marbles Bubble Shooter is soft launched in Singapore and The Philippines and comes free for play. You only need to pay for some in-game items. The app is available for both iOS and Android operating systems.
Worth Having App – Download for ios – Download for Android