Do you want to adopt a pet such as a dog, cat, cow or a bird? There are so many reasons for adopting a pet. It's your decision which pet you want to adopt. The Dog is a very common pet who is being adopted by so many people because of its loyalty and so many other reasons. Some studies have shown that petting a dog reduces your overall stress and improves your health. By adopting a pet, you're giving an animal a chance to live the life they deserve. Because they are being abused and neglected by their previous owners sometimes. Dogs keep you active as they need to walk more with their owners as compared to the people without pets. So you can track your walk with your dog and take care of them. Mean app records your walk with your dog which includes route details such as how much distance you have covered, time take and frequency in a weekly, monthly and yearly basis. The app requires iOS 11.0 or any later version of the Operating System of your iPhone, iPad and iPod touch. The app has been developed by dotD, Inc, this year.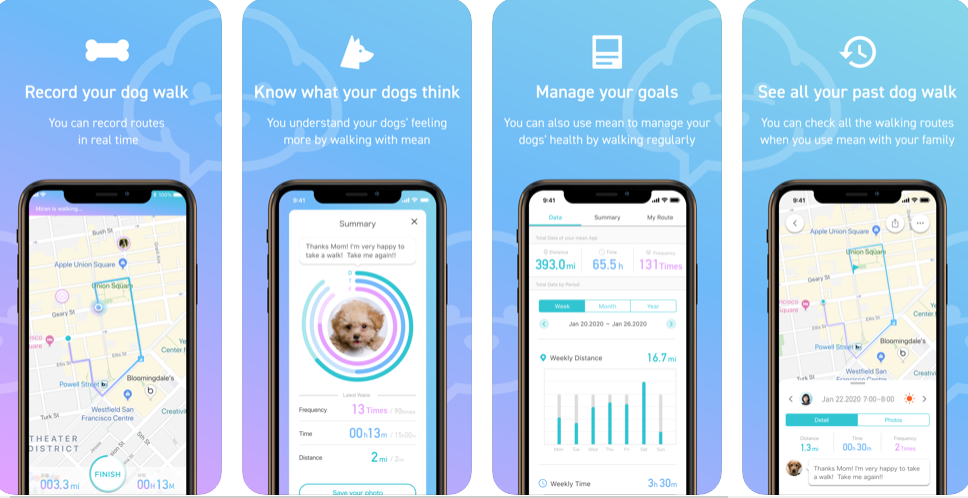 To use this app, you need to Login on the app and start recording your walk and stop when you want to with one push button. The app automatically pauses when you wake a train or get in a car. You can take selfies with your dog while going for a walk and create awesome memories. If you stay for more than 10 minutes on a particular spot, the app register that place for future use. The app manages the history of your walks in time series.
Features of the app:
This app manages your walks with your dog daily.
Track the distance, time and frequency of your walks.
Connect with your family to take care of your family.
The app finds a dog walking nearby.
The dashboard of the app displays graphs which show how many walks have been made against target values which you have set earlier. Your achievement of the monthly walk is displayed in a list. As you walk, you can create your own territory map with a heat map. The various health functions of the app allow you to log on and monitor the timing and the location whenever it does it. You will be able to monitor the health of your dog together with your family. Moreover, you can share the information regarding your walk to your social media accounts by linking to it. Also, you can upload photos taken during a walk and renew the sign in screens.
Overall, it's a great app to track your walk with your dog in real-time and keep an eye on your health as well as your pet's health! The app is available on the iTunes Store at a very cheap price. You can get the premium plan @ $2.99 per month and keep your precious memories with your dog.
Get the app now!
Worth Having App – Download the App