Without limits or monthly subscriptions, you can schedule and organize your social content from Twitter to Facebook to TikTok in one place. With our powerful and simple-to-use tools, you can expand your audience, generate leads, and grow your business.
Why should you use Mixpost?
Run Mixpost on your own server to save money on a robust social media management tool.
Mixpost, the self-hosted software that adeptly allows you to schedule and organize your social content in one place without limits or monthly subscriptions, can help you save money and take control of your data.
You should easily manage and collaborate with your teams to get the most out of your social media strategy.
Who is Mixpost for?
It's the best social media management software for bloggers, artisans, entrepreneurs, and extensive marketing teams looking to cut costs. If you want to build a SaaS around scheduling, analytics, and social media, our application lets you do so in a matter of hours and earn money from subscriptions from your clients.
Powerful Features That Are Easy To Use Analytics
Mixpost helps you grow your social media presence by providing visually appealing and actionable insights on follower activity and post engagement. The ideas are presented in an easy-to-read format, making them simple to comprehend and apply to your strategy.
Scheduling
Easily plan and schedule your content with a visually appealing interface with automation capabilities. It's as simple as that.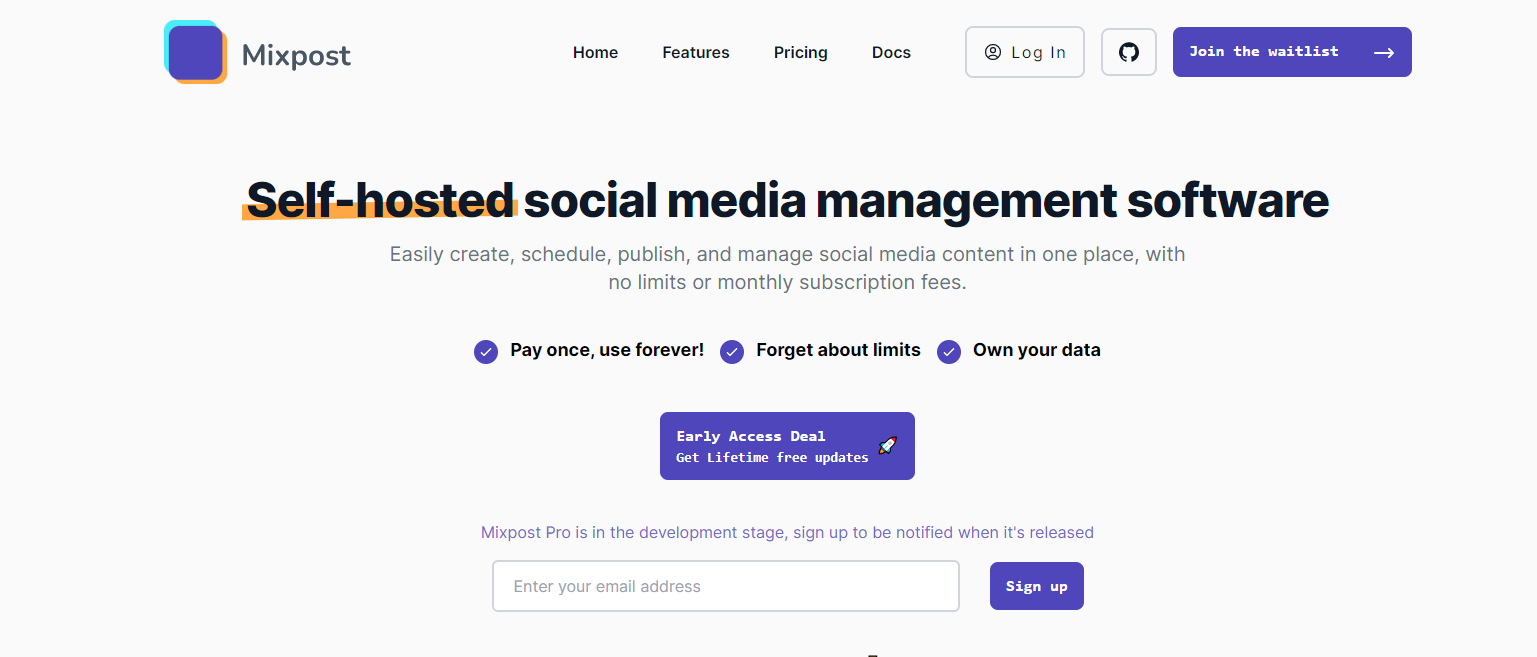 Inbox
With the ability to reply, like, engage, retweet, and quote tweets directly from the Mixpost Social Inbox, you can manage all mentions and comments from a single inbox.
Teams
Cooperate with your team and invite clients to provide real-time feedback on your work. You can use Mixpost's approval workflow to ensure that all content is of the highest quality before publication.
You can easily publish content to all your social media accounts with a single click.
Customize Posts
For best results, easily tailor your posts to each social media channel's specific format and requirements.
Preview Post
Using the preview feature, you can ensure your posts look great.
Post Versions
Experiment with different content versions.
Hashtag Groups
Organized hashtag groups can help you improve your social media strategy.
Final Words
With no limits or monthly subscription fees, you can easily create, schedule, publish, and manage social media content all in one place using this Self-hosted social media management software with Mixpost.