Which is the most consumable commodity in our daily lives? Obviously it's "oil" whether edible, crude or any other essential oil. Oil prices rise and fall after a certain time due to various constraints. Whether, its economic growth or the change in weather, it depends on the various other factors.
The oil industry leads to new technology development both directly as well as indirectly as it's the most consumed commodity. Therefore, the oil prices sometimes rise and sometimes fall. But, do you know when and how? Are you familiar about it?
Today, there is an app in our courtroom, which covers the latest stories in Energy, Oil Price Analysis, Alternative Energy, Finance, Geopolitics and more with more energy news unlike other apps. It is none other than "Oil Price: Energy News", which has been developed by James Stafford, this year. It's an app compatible with the iOS devices having 10.0 or any later versions of the Operating System.
There are so many other apps which gives you live information about the variations in the oil prices but, this app is totally different and it's more reliable unlike other apps. You will get to know about the latest oil prices, energy news, market data and industry analysis from the leading journalists around the world. You can customize your own personal portfolio around latest news, price alerts and incoming market data.
Oil Price covers the latest stories in Energy, Oil Price Analysis, Alternative Energy, Finance, Geopolitics and more with more energy news than any other website. For reliable and up to the moment sector analysis you can rely on Oil Price to deliver the information you need, when you need it.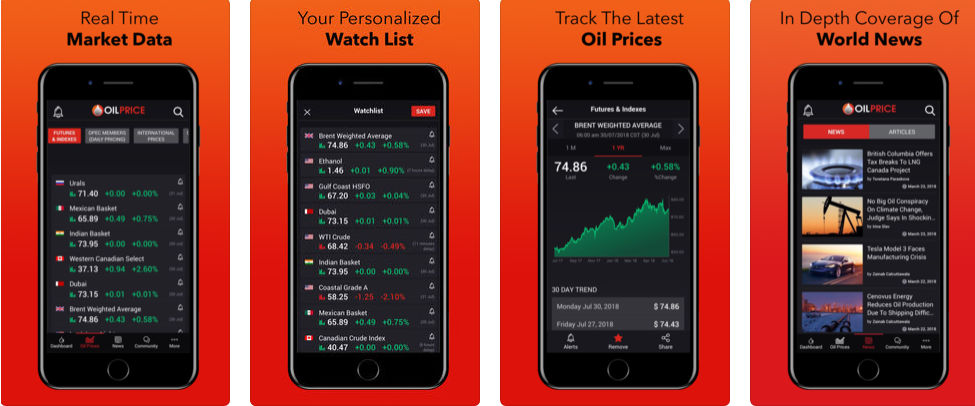 Some of the features of the app are:
It gives featured and trending energy news, oil news, alternative energy, finance, geopolitics and more.
More live oil prices than any other app with over 200+ blends.
Track over 200+ oil blends from a ross the globe in your personal energy portfolio.
Get the latest real-time oil and price data as well as market analysis at your fingertips.
You can receive daily news and price alerts from the energy topics and stocks.
Customizable stock alerts.
Customizable watchlist.
You can share your oil stocks picks to your network with a single tap.
Oil Price works with the largest names in financial news and provides news and industry analysis to sites such as: CNBC, Yahoo Finance, Nasdaq, Fortune, TIME Magazine, Huffington Post, USA Today, CNN Money, Business Insider as well as hundreds of others. It's the most demanding energy news and oil price app all over the world. With the market analysis that focuses on key areas of the energy industry including oil and gas, alternative energy and geopolitics.
So, go to the iTunes Store and download it asap!
It's as amazing as you think!
Pros: real-time market data; personalized watchlist; track latest oil prices; in-depth coverage of world news; connect with the largest energy community; free.
Cons: not found.
I will give this app 4.6 out of 5 stars.
 Worth Having App – Download the App – Developer Site