Innovation knows no limits when it comes to selecting an item to improve. This is the case with PalmistryHD-Hand Reading & Daily Horoscope, a new app for Android. This app is sure to blow your mind because it is, literally, putting an ancient divination art at the palm of your hand. If you are a faithful believer of the esoteric, prepare yourself because now the two most popular fortune telling arts will be available at the same place, for you to access easily whenever you want, wherever you are.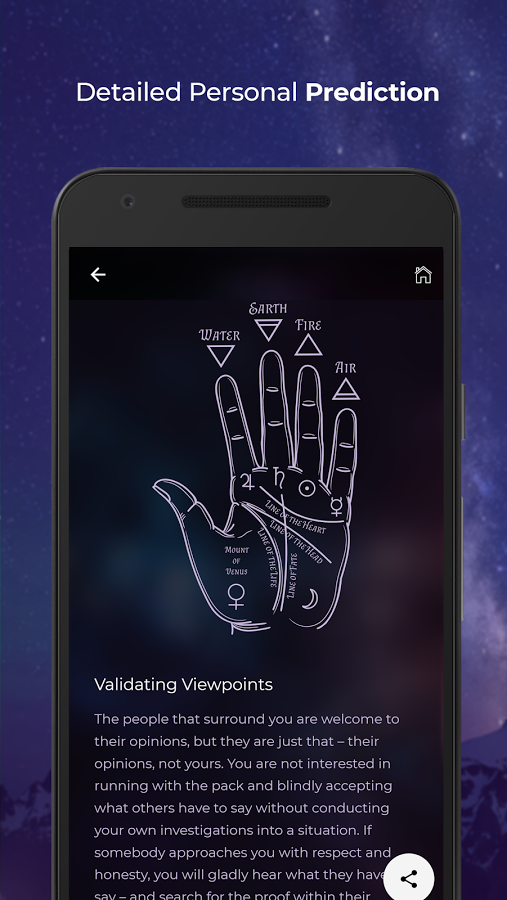 What is Palmistry? 
Palmistry is the actual name of palm reading, this art has been used to study the shape and size of the lines of the hands and fingers, and by relating them directly to the personality and character traits of a person.
There are two branches of Palmistry: Chiromancy and Chirognimy. The first one is focused solely on the lines of the palm, while the second deals with the shape, color and texture of the hand and its parts.
PalmistryHD-PalDaily Horoscope App Features
PalmistryHD main objective is helping you to discover your fate. It does this by giving you access to your daily zodiac signs and by reading the lines of the palm of your hand.
When it comes to the lines of the palm of your hands, well, they have different things to tell you:
●
The Life Line: it indicates well-being, physical health and what the major changes of your life will be.
●
The Heart Line: you can read this line to learn about romantic relationships and your emotional stability.
●
The Head Line: represents your intellect, how you learn and communicate with others.
●
The Fate Line: this line tells you how your life is affected by variables beyond your control.
As you can see, you can learn a lot about your current self and you are be able to complement that with your daily horoscope. The predictions according to each zodiac cover topics, such as Love and Relationships, Fitness and Health, Success and Happiness, and Career and Money.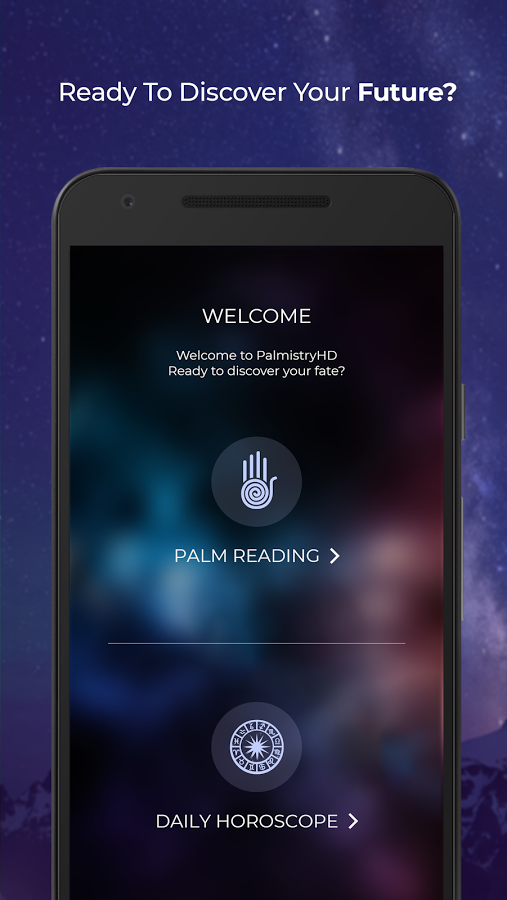 How Palmistry HD-Palm Reading & Daily Horoscope Works
When you first open the app, you need to enter your name, gender and date of birth, Then, you get to choose the kind of reading you are interested in and after paying, you have access to the app. For the powerful biometric algorithm used by this app to start reading the lines if the palm of your hand you need to follow these simple steps:
1. Take a photo of your palm
2. Your palm is automatically analysed
3. Read your results instantly
Palmistry HD-Palm Reading & Daily Horoscope Review 
At first, some of us can be skeptical about divinatory arts, particularly those you access through your phone. After finding out there's actually Biometrics involved in it you start paying attention. Once you get results that describe your personality traits accurately, you start believing. This app does wonders and it is amazing how fast, easy-to-use and discreet it is. We found it to be worth every penny you pay for it and we assure you, this is an investment you wont regret making.
What are you waiting for? Give a shot and let us know how it went in the comments below.
Worth Having App – Download for ios – Download for Android