Hey guys today i'm going to review about the latest ios app which is Pandamino app. Just like any other other ios app, it can be very addictive. This app is like the ancient dominoes or can be said a modified and interesting version of dominoes. Being an iphone user, i wanted an app which can generate interest as iphone ios has few apps like this. To be honest i thought it was an ordinary app like any other worthless local games but i was completely wrong. Its the one the best games for an iphone user( that's what i think). But if you are a fan of fighting games or any other arcade games then sorry guys this app is not for you. It is for those guys who like it simple and want to timepass.
This app is about the panda named pandamino who hunts for the ancient dominoes of incredible values and hidden throughout the world and guarded by the style puzzles. But that's not it, it has a villian, a cunning fox, who has stolen panda's map and began searching for the ancient dominoes for himself. So you must go to this epic adventure and have to solve the unique puzzles to find all the dominoes before the cunning fox does and find the dominoes. Well that was the app's detail.
Now on which platform it will work smooth? well it will work smooth on any upgradable platform and should be of minimum ios 10 or later. It does not work on ios 9 or any previous version. It will not work or the lesser GB RAM like 1GB or lesser. It requires atleast 2GB RAM or higher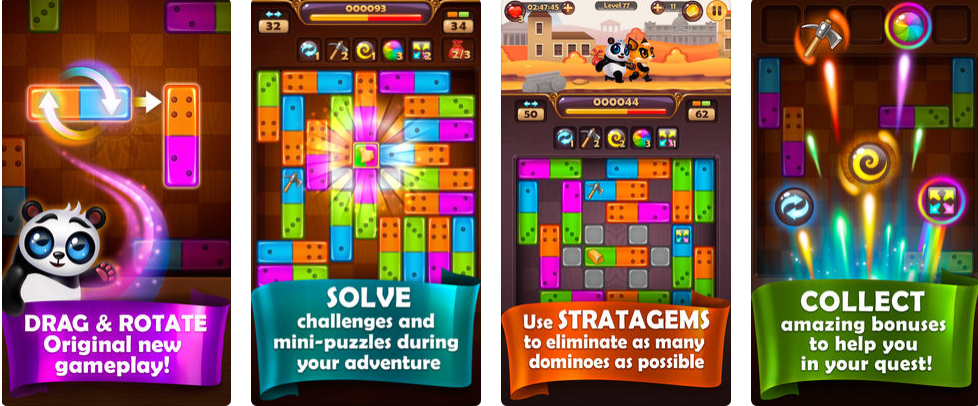 What are the highlights of Pandamino? it has over 200 hundred levels and you can go to an adventure around the world. It has hilarious characters and an amazing story line which can attract any kind of audience and you hardly can get bored. You can slide up and down to create a way to match the dominoes to win.What amazing about this app is it required a strategic and logic plans to match up the dominoes. It has some very easy to understand tutorials and videos about the games which can help you to understand the basic rules for playing. And last but not least it has an amazing feature where you can play it offline too. Yes you have heard me right. You no longer need any wifi or internet data for it awesome isn't it?
But remember what i told you it requires a higher platform with upgradable GB RAM and and upgradable ios platform. And if you are not into such type of games or app i highly recommend please don't even get bothered to download it cause you guys will get bored and will give negative reviews about it So guys what you are waiting for ? go and hurry up and download it. I'm also an iphone user and i don't know about others but i liked it.