PassVult is one of such nice platforms which I need at every step of my professional work. It is because this app provides perfect password management system through which I protect my passwords. As I usually forget my password some time, and that's the time when PassVult comes into the picture. Well after accessing this app, I get a good way to value my data security.
With this app, I get ownership of the password data by localizing all the data on an individual iDevice. One of the best things which I like most is that it provides a master password for every one of the passwords.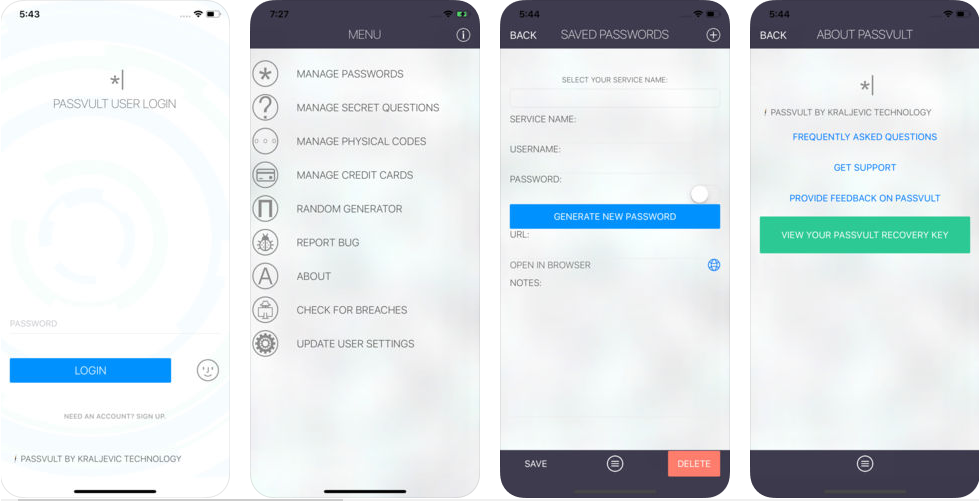 It is due to this app, my most of the important information's are stored on the device and always with me. My all passwords are stored in one place. It's an easy process of storing & managing all the passwords. Even the app is providing the feature of storing & managing the credit card information. A user can also have secret questions within this app. Also, my information is AES secured. The app is fully Touch ID & Face ID enabled. I can also check breach to detect whether my email disclosed in any public breaches. The app is also providing the way to change the password and export your PassVult data from the setting option.
Like this the app is providing the great features to the user. Now I don't worry about my passwords security. Nothing is better than this for me regarding protecting my data. Even I can raise the issue through report bug option. It is one of the best ways to convey your problem to the supporting team.
My special advice to users:
The app is perfect but you need to take care of some points. Firstly don't forget your password. The app is not providing any option for resetting the forgeted password. Moreover, you can only change the password. Additionally, if you wish to delete the app, the data will also be deleted automatically. There is no option for backup in this app. So if you wish to delete this app don't hope for getting the data back.
Last Words:
PassVult is really best utility apps which are really useful for every of the user. Till now I have no issue with this app. I get the best way to manage all my passwords in a simple and easy way. Amazing app with amazing features. Thanks!!
Worth Having App – Download the App