I always wondered about the game played on a table with a stick to pocket the balls. I first saw that game in a Bollywood movie, and it seemed too easy and hence boring to me. I thought: What's interesting in this? All you have to do push the stick and pocket balls: Anyone can do that! At that time, I was unaware about its name and I searched it on the internet.
You won't believe me, when I first played the game, I could not pocket even a single ball even until my opponent pocketed all his balls. Then I realized that you can't judge a book by its cover! I felt very crazy about that game and played it so many times and at last pocketed all the balls before my opponent and won! Today, I'm a big fan of eight ball, a version of billiards! Yes, the game is called billiards or the pool game. I can't live without playing it for even a single day. Even if am outside or on the move, I'm playing it on my mobile. Do you know how? With the awesome game app Pool King, the king of all 8 ball pool games!
Pool King is an online gaming platform where you can play 8 ball pool whenever and wherever you like. You can invite your friends and challenge them to eight ball games. It's the most authentic and amazing game. It will give you the same experience as you get playing on a real pool table. You can go head-to-head with real players from all around the world and engage in some thrilling 8 ball pool action.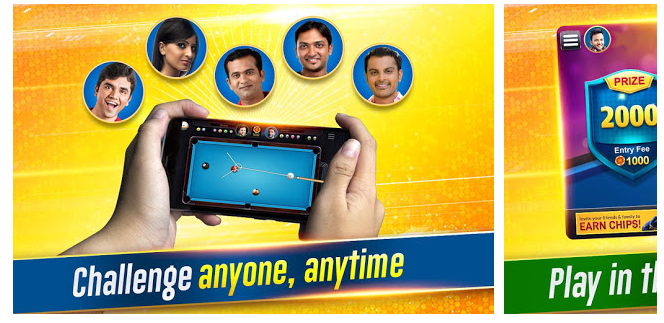 You will be amazed by Pool King's solid physics and state-of-the-art technology, which give you the most realistic experience. The game involves aiming, shooting and pocketing all your seven balls followed by the black ball. Whether you are a pro or a new player, you will be playing against an opponent whose skill level matches yours. So don't worry about pairing; you will be playing fair matches with the most suitable opponents.
The Pool King app has a user-friendly game lobby where you can choose games of your liking from multiple game rooms with varying entry fees. You can win chips, rewards and much more. So join a game of your choice and shoot to become the king of the 8 ball pool. It takes just one click to sign in with your Facebook account or log in as a Guest on Pool King. You get 10,000 free chips on signing up! 
How to play 8 ball pool?
First, you need to drag the cue stick on your mobile screen to target the cue ball (white ball) from an angle that it will then hit and pocket one of your seven ball. Adjust the hit spot of the cue ball. Drag the pool stick to control shooting power and finally release the pool stick and shoot the cue ball. It's as easy as ABC!
You can refer Pool King to your friends and earn a lot of chips as referral bonuses.
Download the Pool King app now and enjoy the out-of-the-box features of the game!
Pros: User-friendly interface and offers; solid game physics; fair matches; easy yet challenging; free to download and play. 
Cons: none.
Worth Having app – Download the App