What is the QualityFood app all about? 
The QualityFood app is an online grocery shopping app that was established in 2015. It caters to a huge variety of grocery needs for its customers across the UAE including well-known cities namely Abu Dhabi, Dubai, Ras Al Khaimah, Al Ain, Ajman, and Sharjah. You can pick from a wide range of options like organic vegetables, fresh fruits, tropical and exotic fruits, juice, dairy products, canned food items, chocolates, dry fruits & nuts, meat & poultry items, seafood, bakery products, and frozen food packets. It performs as a one-stop source for all the grocery needs of people by delivering within a day. There is no minimum order limit set on the app. However, one needs to pay a minimal amount of 35 AED for orders less than 150 AED.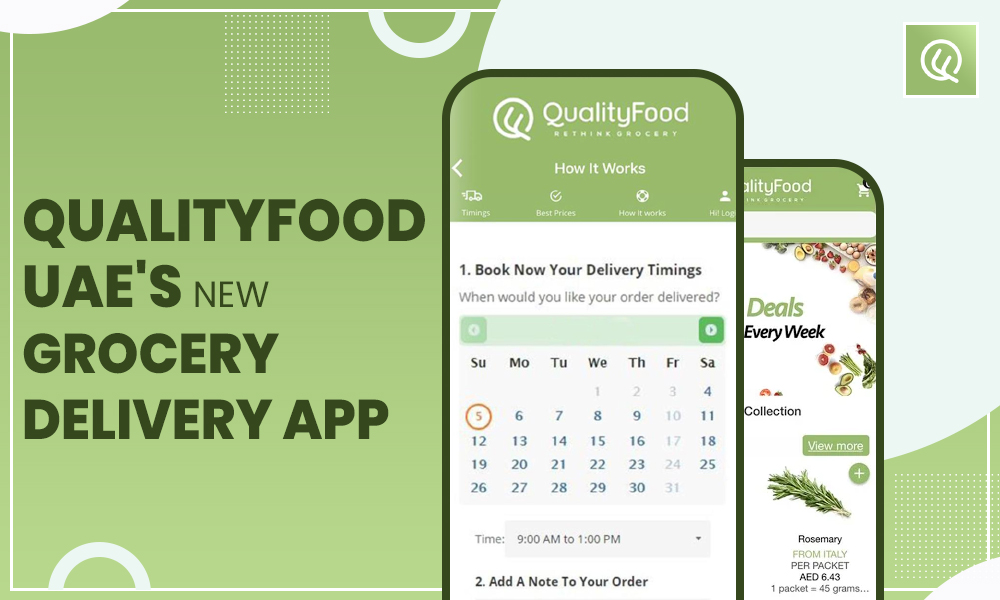 Salient features of the QualityFood app
The app provides an online platform that delivers groceries across the UAE within a day. It offers several useful features that allow consumers to browse, pick, and order an item to get delivered at their doorsteps. Here are some of the salient features of the app.
 Pick and choose the item
You can skim through hundreds of grocery items and pick the ones that you wish to order from the app.
 Choose delivery timings
The app lets you choose the delivery timings as per your preference. It allows you toschedule a delivery for up to 30 days in advance. However, you need to follow specific instructions to receive your grocery orders the next day. To receive your order immediately the next day, you need to order it before 3 pm on the previous day. You can choose either morning, afternoon, or evening delivery slots, whatever befits your schedule.
You can thus avail of food and grocery delivery in the UAE anytime between 9 am to 9 pm from Saturday to Thursday. Remember that the app does not deliver on Friday. You must also check for deliveries during the holidays because delivery hours may vary on those days.
 Multiple payment options 
The app offers multiple payment options. When you are shopping or paying by cash or a credit/debit card, you can make an online payment. You can pay via Visa, American Express, Apple Pay, Samsung Pay, and  astercard.
 Customer Service Team 
If there remains any discrepancy, customers can contact our customer service team. They will look into their issue and try to resolve it as soon as possible.
 Canceling the order 
Canceling orders on this app is not at all a tedious task. You can log in and cancel your order in a few simple steps. Customers will not be charged anything for canceling their orders.
What does QualityFood offer to its loyal customers? 
Like any other online grocery delivery service in use, the QualityFood app also loves to serve its customers again and again. They love it when their customers keep coming back to them to shop for different grocery items. Thus, to reward their customers' loyalty, the app offers exclusive rewards in the form of coins. These coins can be used by the customers by logging in to their account on their app and use it for further purchase. This can be done by clicking on the 'Redeem' tab under the 'Rewards' section on the app.
How is QualityFood able to deliver fresh groceries? 
A lot of people are involved in the whole process carried out by the QualityFood app to deliver fresh groceries. It guarantees a team that works dedicatedly to make sure that their customers receive the best services.
 Picking only fresh food 
The staff at QualityFood pick the freshest item with the longest sell-by dates. They keep in mind the safety and health of the consumers and shop as if they were shopping for themselves.
 Packing your shopping
The team separates food and chilled food items from dry ones. They also make sure to place heavy items at the bottom to avoid any damage.
 Climate – controlled delivery vans 
The team makes sure that it stores everything in climate-controlled vans. So, you can be sure of receiving your orders at the right temperature.
Conclusion 
The QualityFood app cautiously picks and delivers the freshest and best quality grocery items to its customers across the UAE. Customers are its first and foremost priority, thus it emphasises a lot on its product and service.