Personal photos and videos should be kept private. And most of us would agree with this statement, particularly those who have to deal with many private shots. Although the latest iOS versions have provided a more effective way to immensely hide the hidden album, it isn't the finest way to hide photos on iPhone due to the lack of a strong shield.
Because there is no lock on the hidden album, anyone can stumble upon it, revealing all the secrets you have been trying to keep hidden. However, there is no reason to be dismayed because Safe Photo Vault for iPhone app is introduced for users.
Safe Photo Vault is the best photo locker with encrypted security to protect your privacy and hide your private photos.
Conceal your added photos with various locks such as PIN passcode, touch ID, and face ID.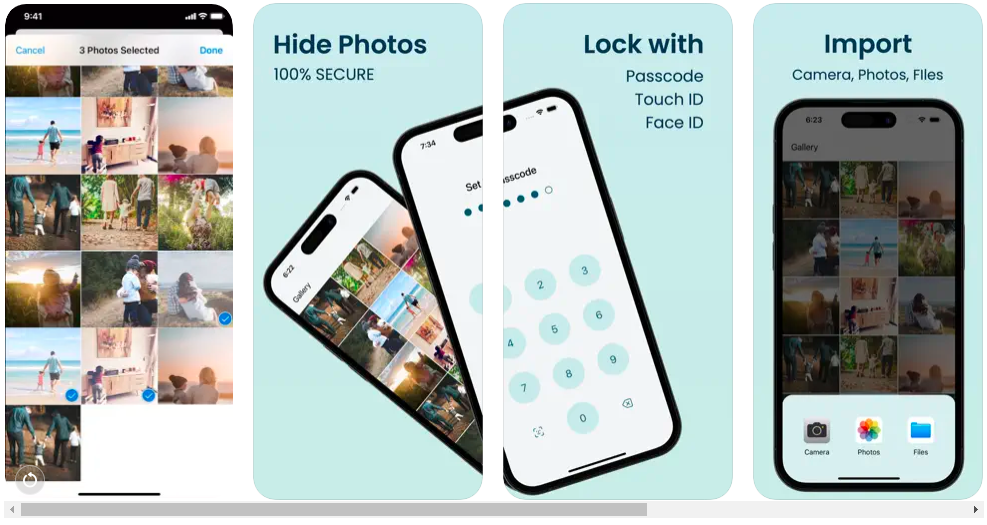 Safe Photo Vault Functions:                    
Quickly add your private photos from the camera, Photos Library, or Files.
Keep an excellent and priceless photo gallery.
Set up password protection and keep it safe.
Quick and easy way to preview and organize your Photos Gallery
Simple sharing and exporting of photos.
Safe Photo Vault App Features
Imports and Locks:
Import images using various methods such as App Camera, Photo Library, and Files.
Various privacy lock features. Passcode, Face ID, and Touch ID are all options.
Image Preview and Editing:
Preview the photos gallery in the same way as native
Advanced image editing capability
Passcode Decoy / Fake:
Configure the decoy / fake passcode to display decoy content while protecting your private photos with the accurate passcode.
Break-In Report:
If someone tries to access your private photos, the app will record the attempt.
Facedown Lock:
When in a panic situation, the facedown lock switches apps automatically.
Disguise the App:
Change the App Icon on your home screen to conceal the app and keep it safe.
Theme and layout:
Support for dark themes and an easy-to-use interface
Localization:
You have aided 15+ languages, making it simple to use with your locale.
Final Words
This Safe Photo Vault App developed by Archna Ramoliya adeptly protects your privacy well, with various locks and the ability to manage photo albums to your liking.