SERPtimizer offers a wide range of features that helps you get successful with SEO. It is one of the most important tools that help you get to move up in the website ranking every week. Of all the SEO tools that are available for businesses, this one is my favorite as it is used for a multitude of reasons. When you need to improve your website traffic with the least amount of effort, SERPtimizer can be the ultimate choice.
The app comes with an easy-to-use interface that is very simple to grasp. The SEO Audit tool lets us know where our website falls short and where we need to improve. It helps you discover the issues that bring down your website in case there is any broken link and below-average content etc. It notifies the users of the errors that are present on the website by sending email alerts. This helps you to know that your website is running smoothly and you need not watch your website all the time.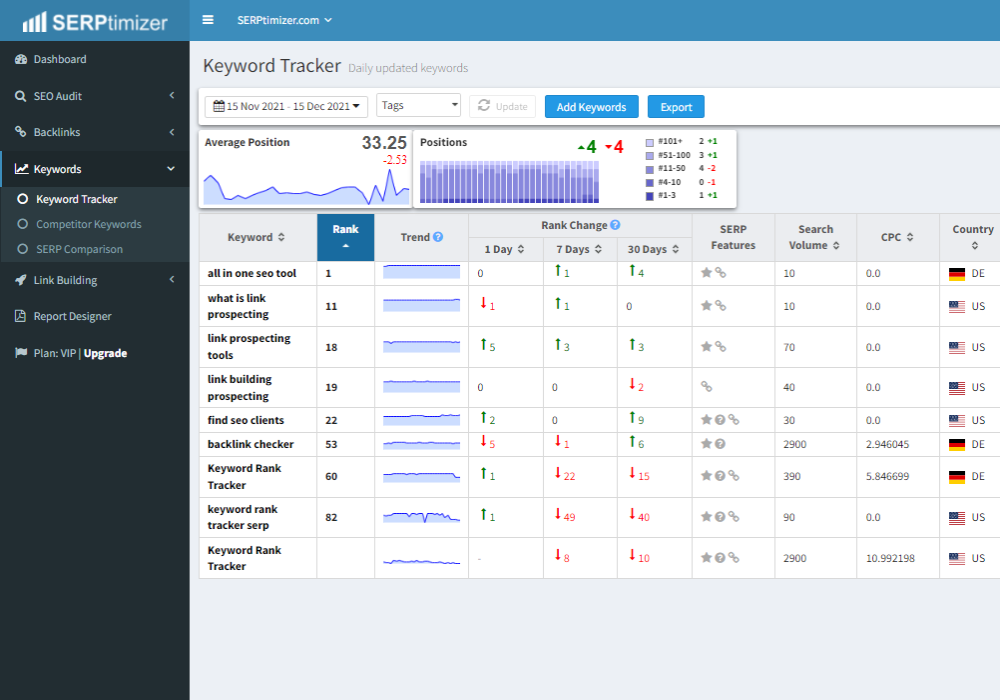 It comes with the following SEO tools: SEO Audit tool, keyword rank tracker, backlink checker, and link prospector. The number of projects, page crawls, the number of daily tracked keywords differ within the different pricing plans. The Domain Keyword Finder and the Link Prospector are some features that make the tool unique. The rank tracker supports the following search engines: Yahoo, Bing, Yandex, and Google.
SERPtimizer comes with so many features that do the competitor analysis and allows you to analyze the on-page efforts that beat you in the Google SERPs. The app offers unlimited access with a 14-day risk-free trial. After the trial gets over, you can get the best website audits without any hidden costs. It comes with three pricing plans: free, basic, and professional. It allows you to create PDF reports that contain your logo and helps impress your customers with a report designer. The blog of SERPtimizer is loaded with so much information and so you can learn and gather so much knowledge whether you are a newbie or a pro.
They provide awesome customer service the team is dynamic and they are always ready to solve the issues you have.
Worth Trying SEO Tool – Try Serptimizer today