Like a Stock Market Trader, I always stay updated with every movement that has been arising in the market. Share market trading apps help me to stay updated on every happening in the industry. I have used various share market apps for checking the actual market price to drawing stock charts. I have been reviewing so many of the apps, and in the row, it is about the Edelweiss Mobile Trading App.
Share Market Live Trading App -An Overview:
Carry every updated information about the Stock Market in your pocket by using the Share Market Live Trading app for both Android and iOS devices. Sign up for the trading app by providing your number, and you will be redirected to the app home page with notifications to check out the key market indices, you can type different script name to get quotes about them, watch out monitor markets, trade and access watchlist. Edelweiss Mobile Trader is a mobile trading application incorporated by Edelweiss.
Why Edelweiss Mobile Trader?
The app allows the customers to trade, monitor different financial instruments at NSE and BSE. Apart from that, they are capable of accessing the data in the real-time market, examines the trades, check out the portfolio performance and more. The mobile trader app also provides them with an exclusive power charting tool for the mobile applications which offer the customer with trending news on the stock market along with sentiment analysis.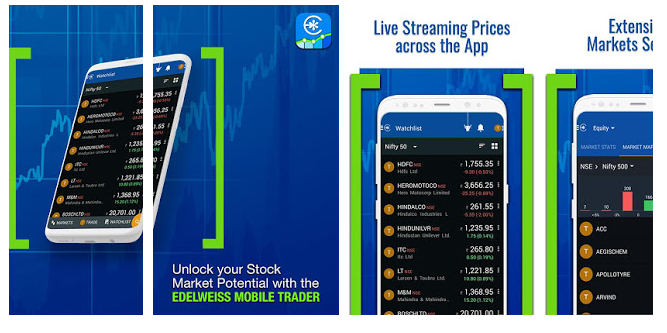 What are the best Features of Edelweiss Mobile Trade App?
A lot of screeners available to check out the positive breakouts and negative breakouts, golden crossovers and death cross overs, overbought stocks and oversold stocks, high breakers and low breakers, stocks opened on a low, and stocks opened on a high, recovery from day low or fall from day high and more.
Capable of trading across different exchanges and segments like NSE, BSE, NCDEX, & MCX.
Ability to create watchlists and they are customizable to 100 stocks per list.
The live news section is available which is faster than the TV.
Live feed streaming across BSE, NSE, NCDEX and MCX.
Secured fund transfer is available from different banks which are derived with UPI Facility.
There is a market section where you will be able to check out the market stats, sector performance, FII DII Flows, Events Calendar and more.
There are derivatives sections which lets you know about the rollover, option chain, and open interest analysis.
The advanced charting is something informative.
What are the Advantages of Edelweiss Mobile Trade App?
The unlimited market app is filled with numerous benefits, and some of them include
You can stay logged in up to 6 hours in the app.
Capability to track profit and loss of your position.
Refer friends and earn Option available.
Secured fund transfer.
Available on iOS and Android.
What are the things that are missing out in the Edelweiss Mobile Trade App?
The two things that the mobile trader app miss are backtesting and it's unavailability on Windows phones.
Conclusion:
Hope the above information about the Share market Live Trading App from Edelweiss provided you with a clear idea of their importance, benefits, and drawbacks. I would advise you to use this app because I feel safe and secure with the app while using it with multiple benefits incorporated in a single app. Any queries about the Edelweiss mobile trader app are welcome.