Today, I will introduce to you an amazing app for editing photos and managing videos and other files. The Simple Gallery Pro is a professional file organizer loved by millions of people all around the world for its great intuitive user experience. It's a customizable offline photo vault which contains no ads and works smoothly without interrupting you. The app is compatible with all the latest Android Operating Systems. You can use the photo gallery to edit photos, recover deleted photos, protect and hide photos, create secret photo albums and easily crop pictures. You can view a huge variety of different pictures and videos in different formats including RAW, SVG, GIF, panoramic and many more.
The Simple Gallery Pro is a truly offline secret photo album editing app where you can manage the photo gallery the way you want to be! The app offers a beautiful modern photo album with an option to recover deleted videos and crop pictures. The app is an advanced photo editor where you can crop pictures, edit photos, search images. It's a comfortable and easy to use photo vault to recover deleted videos. If you deleted your photos by mistake or on your own, you can recover them from the recycle bin easily if you want them. Moreover, there is no internet access needed, giving you more privacy, security and stability. In fact, there are no annoying ads displayed while using the app. So you can perform the task smoothly.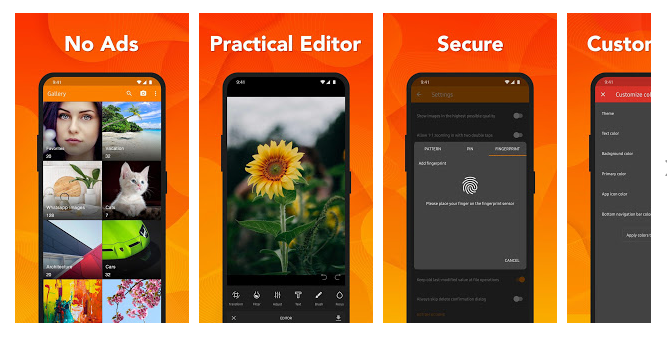 There is a quick review of the features of the app:
Search images, edit, delete, recover, hide photos, videos, GIF and other files.
Open and view many different photo and video types in different formats- RAW, SVG, panoramic, GIF etc.
A variety of intuitive gestures to easily edit and organize pictures in the photo manager.
There are a lot of ways to filter, group and sort files.
Protect your files and specific functions as well using a password, pin or fingerprint.
Recover files from the recycle bin.
You can set any image as a wallpaper without any hassle.
You can create a customizable slideshow of your files with many options within the photo gallery.
Easily force portrait or landscape orientation for easy video viewing.
No ads are displayed and no internet connection required.
Overall, the Simple Gallery Pro has been offered by Simple mobile tools and is compatible with the Android Smartphone having the latest versions of the OS. The user interface of the app is quite intuitive in nature. With the amazing function buttons on the bottom toolbar, the app is a highly customizable file organizer and works the way you want to! There is nothing you can't do using this brilliant app such as: edit photos, delete photos, recovery photos, hide, create slideshow, set as wallpaper, etc. You can set a pin, password or a fingerprint on the app to protect your photos or set locks on a particular function of the app. For example- you can't delete or edit a file without unlocking it.
So I would say that Simple Gallery Pro is a must have app to download for simplifying your life! Get the app now!
Worth Having App – Download the app