Nowadays, it's difficult to find useful or you can say quality apps which are worth downloading. Personally, I download those apps and purchase without any doubt which are trustworthy and has been developed by the trusted developers of course a good rating. Again, after a long time I've found a beneficial app which has been developed by the Moiety, Inc., the firm which releases truly amazing apps which are quite useful. The app is called "Smart CoParent"– the ultimate co-parenting solution, especially for the co-parent and the family professionals.
Smart CoParent has been created by the co-parents and meant for the co-parents. Founded by a certified divorce financial analyst (CDFA®), the app is such a big sensation in the market. It's a unique co-parenting solution for families as well as professionals. You need to download the app on your iOS device which can be either iPhone, iPad or iPod touch having 9.0 or any later versions of the Operating System.
After creating your Smart Co Parent account, you can invite unlimited users (kids and adults) to join your account. The family professionals can also join on the app. Users can share unlimited calendar events, store and share contacts and documents. Kids can also share calendars, and messaging with the co-parents. Moreover, they can create, track, send and accept payments online within a few minutes. There is a dashboard also provided by the app to monitor messages, calendar updates, and overdue support payments. One can easily attach and share receipts, medical bills and track expenses online.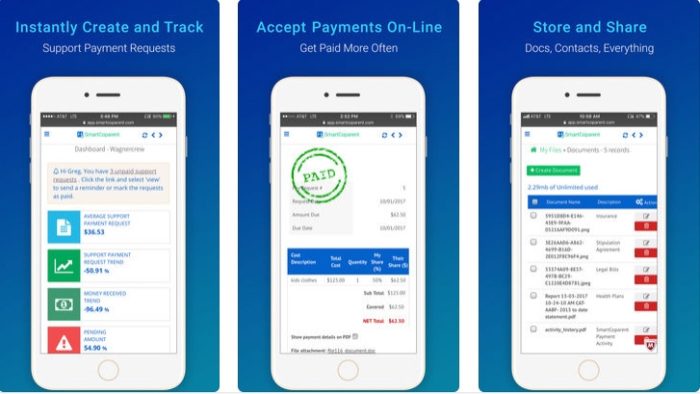 Everything is made perfect in the app and its highly developed by the experts. With Smart CoParent, you can share the content which you like and keep other data private based on your choice. You can easily manage, store and share necessary contacts and documents of your family. The users can avail the advantage to run detailed support payment, and financial activity reports. If there are any overdue support payments, the app will automatically set reminders about that.
Smart Coparent is the platform where you can manage user's expenses, and budget. With its extraordinary reporting tools, its users can monitor cash flow, and support payment activity. In addition to this, the lawyers and professionals can also create preliminary calendar events, message clients, share documents and even invoice clients and get paid online. You can perform in-app messaging, share attachments and keep a private journal also. You'll be notified about your messages, calendar events and payments. The amazing thing about Smart CoParent is that you can access over 10,000 professionals and get discounts on everything from sitters to school supplies from other partners.
So I must suggest this app for every Co-parent because it's highly beneficial for them and is worth it! So grab it now!
Pros: simple to use; highly beneficial for the co-parents; useful for the family and professionals; manage user expenses and budget;  includes a lot of salient features; free to use.
Cons: not found.
Worth Having App – Download the App