Whenever we get some free time we always want it to be spent with some relaxation. We often go for apps that are refreshing and help us while away the time without any boredom. I recently downloaded Snakey app on my mobile and was surprised to find out that it really was crazy enough to keep you tuned for long hours. You will definitely love to spend your leisure time playing Snakey with your buddies.
Snakey is an arcade game app that can be downloaded on both iOS and Android devices completely free of charge. With this arcade snake game for mobile, Snake gaming has never been this much fun or competitive. The app is made suitable for all those above 3 years of age and offers unlimited fun.
Once you install Snakey app, you will find six different challenging modes for play. The app's main page has options that allow you to rate the app and share the app with your kith and kin via social media. In this menu, you will also find the way to activate the different snakes with the coins collected.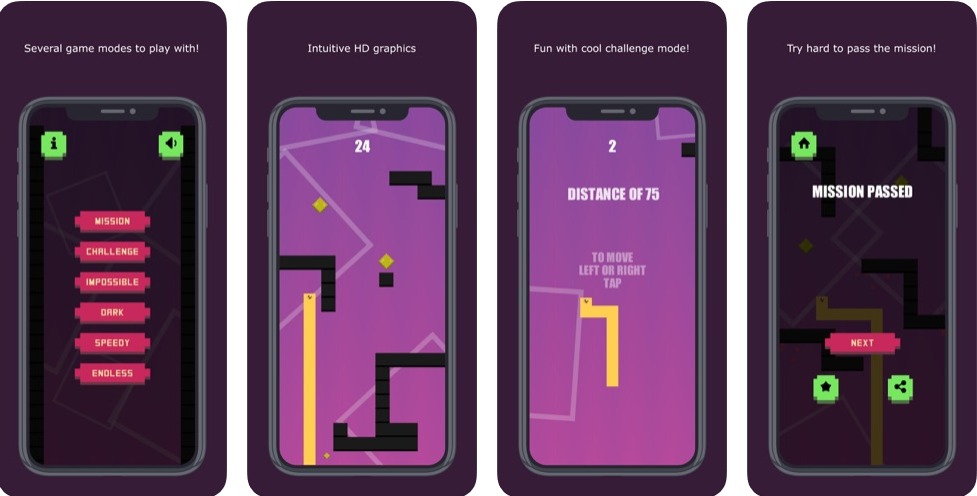 Game Modes of Snakey:
Snakey gives you different challenges where you have to face them to collect more diamonds. There are many different blocks and coins on your path and your objective is to tap right and left on the screen to move the snake accordingly.
Mission: This mode asks you to complete a mission by covering certain distance.
Challenge: This level poses you the challenge of collecting particular number of coins.
Impossible: This level asks you to proceed in the dark at an increased snake pace and collect the diamonds
Dark: The Dark mode is where you have to move in a smaller circle of light, rest confined to darkness and collect as much coins as possible
Speedy: The snake moves reckless in the speedy mode and it is definitely a nightmare for beginners.
Endless: The endless mode runs long without any mission or challenges.
Most Notable Features of Snakey:
The HD graphics and colourful design of Snakey is very impressive.
The game comes with a two-touch control unlike other complex apps with difficult operations.
The game offers endless fun with 6 variants of challenging levels.
The sound effects of the game are very captivating and that makes you wanting to play for much time.
The game play is so easy and understandable by all.
Once you start downloading and gaming with Snakey, you cannot resist the temptation as it is a great time killer. Well! Worm your way through the various hurdles and grab as many coins as possible.
Worth Having App – Download the App