Gaming apps often have to meet a lot of our demands as gamers to deserve a special place in our smartphones. Super Panda Adventure Tour is one app that I came across recently. This potent adventure game is an epitome of its kind and will definitely keep you hooked for hours together.
Super Panda Adventure Tour features a small white panda who is the hero of the game. The game that falls under Adventure genre in the Play Store is an amazing running and jumping classic game. The app features a bamboo jungle in which the panda goes on an adventure. The task of the player is to help the panda complete all the levels and open up the treasure chest. The app has three worlds each with 15 different stages.
Though sounds simple, the gameplay is very challenging and it puts the players strategies and hand-eye coordination to test. The app's interface has a left and right arrow that allows you to move forward or backward. The up arrow lets the panda jump higher and higher as you press it.
Super Panda Adventure Tour has slimes, bats, mad mushrooms and a variety of other monsters that you have to tackle. The app provides a club to let you attack the monsters on the go. The game has got a neat and clean graphics with a very soothing background music. It is a lot fun to watch the panda walk and defeat all the small enemies. The app is so colorful and aesthetic and is definitely and keeper to anyone who downloads it.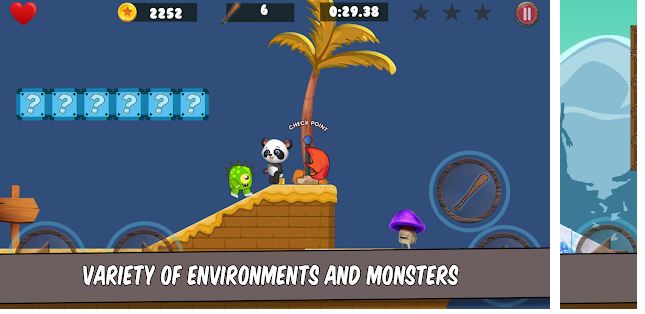 As you proceed through the game,  you can collect many precious coins and challenge other players in the leaderboard. From collecting coins to mashing the mushrooms, the app provides around 57 achievements. Users can also share their score with friends and family on social media. The app is easy to play and guarantees fun for both the young and the old alike.
Developed by Craig Giannelli, the current version, 1.3.5 updated on November 12, 2018, is available for download on both iOS and Android devices. The app offers many in-app purchases where you can choose to remove the ads and buy other tools to defeat the hurdles on the way. I strongly recommend you to download this 2D epic platformer, Super Panda Adventure Tour and enjoy hours of sheer fun.
Worth Having App – Download the App