If you want to play a new word game on your smartphone, you might be loaded with a lot of options. There are so many fun and challenging games in the Play Store, but not all of them would test your brainpower. We people have tried so many games online to keep us engaged and some are so good and make us addictive. Of all the games, this Puzzword has come up with a unique concept.
Given by Higgster Games, the app belongs to the 'Word' category in the Play Store. Puzzword – Guess Words & Numbers comprises 4,5,6 & 7-word puzzles in English, French and Spanish. This game is a "Word Mastermind" that comes with a few tweaks. It comes with more word sizes and modes which would change the difficulty of the game completely.
Playing Puzzword – Guess Words & Numbers is so simple. All that you must do is to choose the number of word puzzles and then start guessing the word. Once you enter a word, the app displays the correct letter in the correct position in green colour, the correct letter in the wrong position in yellow. If the letter is not in the word, it will be in black. When you feel like, you need a clue or a hint to complete the game, you can click on the '?' icon, just above the keyboard, which will give you the hint. The letter or number will be highlighted on the keyboard and shown at the bottom of the screen in a popup message.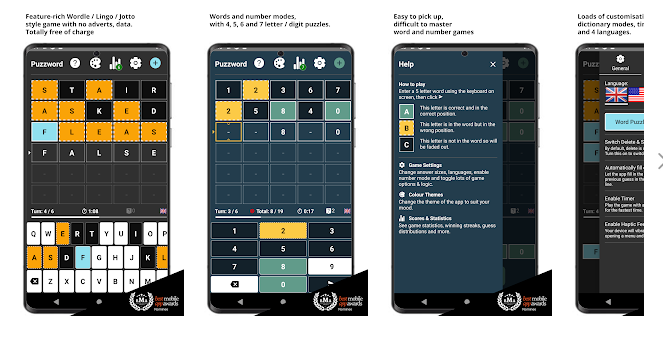 There is a settings option of the app that allows you to alter the answer sizes, languages, enable the number mode and also turn on and off the different game options and logic. The interesting elements of the app are so many as it helps you know the scores and statistics. It helps you track the wins, guess the distribution of the letters in the words, streaks and fastest times. There are different colour themes in the app so suit your mood. It comes with so many customization options, timers, modes and other additional features. Any errors or feedback, you can write to the team via email at james@higgster.com.
Puzzword is one awesome game that comes with many inbuilt options with no ads, purchases, or tracking. There is a fantastic presentation and the controls in the app so so sleek and it is so easy to use. Puzzword – Guess Words & Numbers has no adverts, no data and is kid-safe. I am completely addicted to this game and I play it every single day. Suitable for all those above 3 years of age, the app is compatible with Android 5.0 or later versions.
Worth Having App – Download the App