The Tracker by I4U is a new app designed for iPad, iPod Touch and iPhone devices running the latest iOS 10.3. It is designed to simplify the entire shopping process and enable the user to compare prices from different online stores. Reputable retailers such as Amazon and Walmart and present within the app, and it has now become a lot easier to find rare products in the online environment. In this review we will present you the most important features of The Tracker by I4U along with basic guidelines on how to use the app.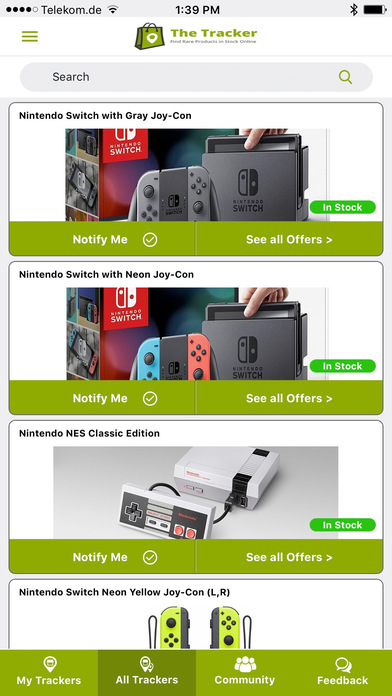 Pros:
– Ability to search by desired product
One can search for whatever product desired by simply entering a search query on All Trackers list. Even rare items such as PlayStation 4 Gold Limited Edition can be found, and if they are not currently in stock, the app can notify you when one of the retailers re-issues the item.
– Option to save queries on My Trackers
If discovered prices of a certain product (e.g. X-box One, Nintendo Switch, Parrot Drone) are not satisfactory, then one can choose to save this search query and refer to it later. The app will automatically notify the user when a certain item is discovered in a new online store for a cheaper price, so that the order can be completed immediately.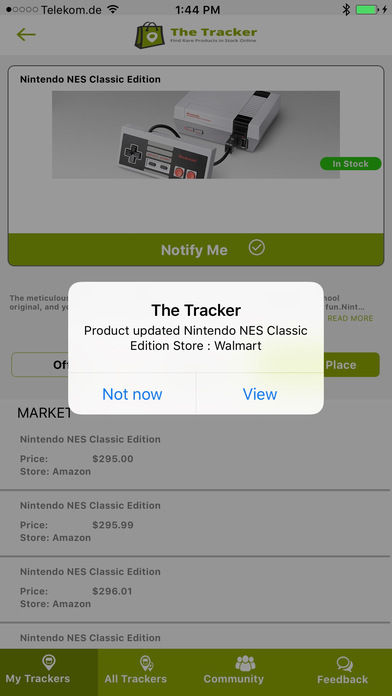 – Comparison of different prices from major retailers
Each store can have their own price for a certain product, so one can save even as much as 200$ at a time by comparing online prices. The Tracker by I4U automatically compares the prices of major retailers so that user can shop easily and with safety. Moreover, popular products are constantly shown on All Trackers page, so if something catches your eye, then it's very easily to check the price and complete an order.
– Access to Community data
The app comes complete with a community section where users can discover important tech news and get access to early products. This section is constantly updated with the help of users, so one can benefit from great insight by using it.
– Ability to provide quick feedback
The app comes with a dedicated feedback section where you can quickly get in touch with the creators of the app and send them queries related to functionality and bugs.
Cons:
– Limited geographical availability
Currently the app seems to be available only for residents of the USA. This aspect probably relates to the availability of affiliated stores, and should be lifted once the app gains enough popularity, although a clear term is yet unknown. Therefore, users from other countries will most likely be unable to find The Tracker by I4U in the App Store, unless they are located in USA.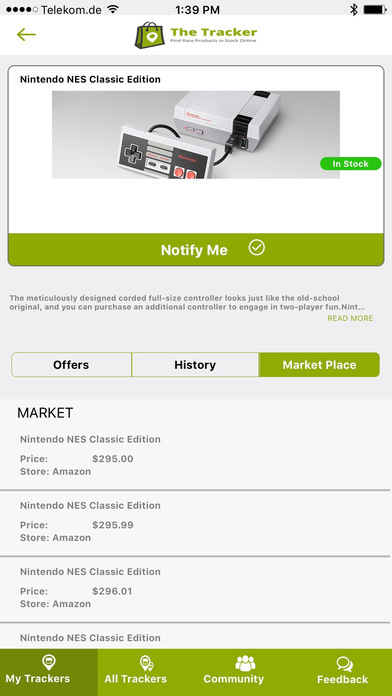 – Some known bugs / Server downtime
As reported by some users the app randomly quits at times, especially when it comes to older devices such as iPhone 5s running iOS 10.3. Their servers have also faced some downtime, and the developers were forced to move to new cloud servers due to severe load issues. Such issues should become more rare as the app ages, and there is always the possibility to provide quick feedback in case problems arise.
Verdict: Good app, although not a must-have
The Tracker by I4U is indeed a well-designed app and one which is useful when it comes to searching for certain products and comparing prices. However, there are a number of websites out there (such as Price.com) which provide similar functionality and do not require a dedicated app. Nonetheless, we believe that the app is great to have by online shopping addicts, and developers promise that it will only get better with time.
Worth Having App – Download the App