If you ask someone what you use your mobile phone for the most, then what answer you'll get? Obviously, it's used for calling, messaging, social media and of course capturing pictures. But, I think the most useful component of a mobile is capturing the memories each and every time using its Camera. People are insane about it! Seriously, wherever they go, whatever they do whatever they share, they click pictures and make videos also. It has become a very important part of today's generation and the most exciting part is that they are expecting more and more enhancements in that technology also from the app developers. So there is one more enhancement with a variety of new functions, in an app called  "VeeR Editor".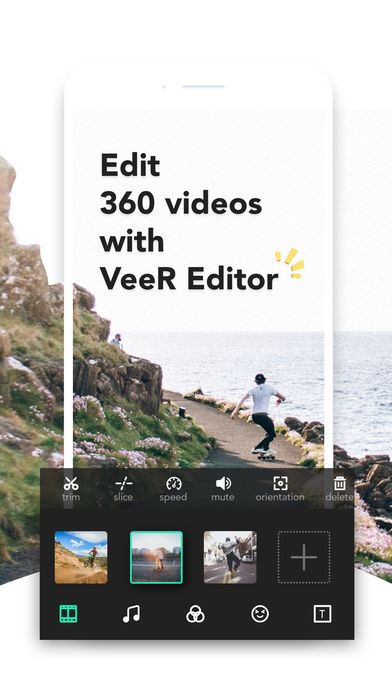 With the help VeeR Editor, you can edit 360° oriented videos and photos in your Smartphone. This amazing app has been developed by Velocious Technologies Inc. The app is supporting all the major 360° cameras, including the Samsung Gear 360, Insta360 One, Ricoh Theta S and Mi Sphere Camera. VeeR Editor has been compatible with iPhone, iPad and iPod touch having iOS 9.0 or any later versions of the Operating System.
This app is specifically designed for VR (Virtual Reality) where you can configure the initial perspective and watch live-preview in 360/VR. To begin with VeeR, you can add your photos or videos from the Gallery and select them to edit. At a time, you can edit more than one photo also with special effects. Moreover, you can combine them into a single masterpiece and. You can re-organize your photos for a natural transition and place one after the another with a smooth drag and drop method. Also, you can add animated stickers and texts in panoramic format with this only 360 video editor.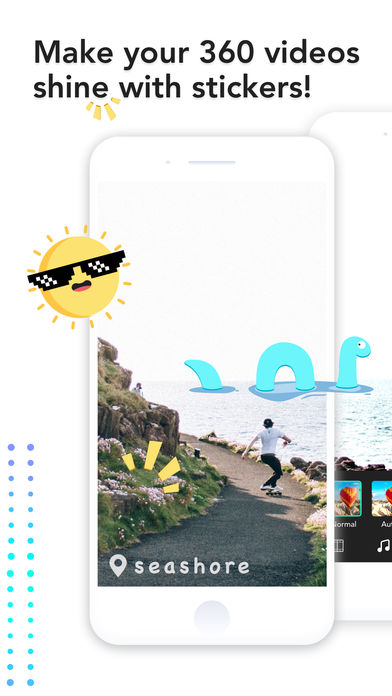 One thing that can make your video or slideshow more exciting is that you can add the background music, whichever you like and which is matching your videos. The volume of both the soundtracks and your videos are adjustable. So enjoy them with a light music or the way you want! You can make your moments of your life, even much better with the Instagram-ready filters. Once you're done with the editing, you can share your content to VeeR as well as other VR platforms with just one tap.
One thing you should note before using the app, is that this app supports 2K resolution for all the models due to iPhones' memory limit, while 4K is currently available for only iPhone 7Plus and iPhone 8Plus. However, this capability to support 4K editing for all models will be improved very soon.
Using VeeR Editor, you can share your VR videos to VeeR, Facebook and YouTube using #VeeReditor for getting more likes and comments and growing your VeeR network.
VeeR (veer.tv) is the leading network, which connects the VR content creators from all around the world. The app will be available on the iTunes Store anytime. So hurry up and give yourself a new way of living!
Pros: best 360 video/photo editor; live stickers and texts; hundreds of royalty-free music; multi-clip editing with special effects; real-time filters; one-click sharing; safe and secure; user-friendly interface; free to use. 
Cons: none.
I will give this app 4.5 out of 5 stars.
Worth Having App – Download for ios – Download for Android