When you want a perfect app to set up messages, you can make use of the Scheduled App. This helps you to schedule both email and texts. Scheduled App comes with 25 free auto-send messages that let you stay in touch with your family, friends, and colleagues. Users will get to decide whether to text or not to text, repeat the message, snooze them, archive and delete or not delete it. The app allows you to send your message across to clients and you will always be able to stay in touch with people who matter the most to you.
Scheduled App comes with different options that allow you to create, edit and delete your message templates. Users can make use of the templates to the fullest and do a lot more with them as it helps to save a lot of time. Falling under the 'Productivity' category, this is suitable for all those in the family and comes with many in-app purchases. It assists in sending pre-written messages to clients, staff, or network automatically. You will never forget a birthday in your life having this handy app on your mobile.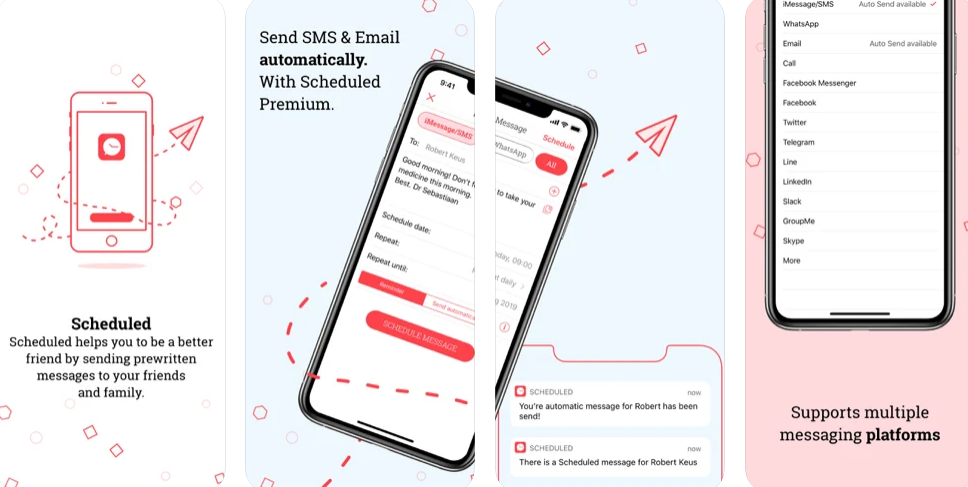 Scheduled App helps users to be in touch with their loved ones who matter the most. It helps us remember those who deserve a kind note, a hearty birthday wish, or a stroke of good luck for their exam. Users will be able to schedule a message, get reminded on time, and stay in touch. The team supports iMessage, Facebook Messenger, Whatsapp, Telegram, Twitter, and Phone. Users can plan a simple reminder and be able to send gifts and flowers. The app is so neatly designed and makes it easier for you to operate without any hassles.
Scheduled App gives you different suggestions for your birthdays and helps import your calendar. It helps you to be a better friend and it assists you in a lot of different tasks. If you own a gym, you can make use of this app to keep your trainees on the move and help them stay updated. If you are a financial advisor, you can regularly send emails to them regarding financial advises and updates. Users with a business account will also be able to schedule/queue SMS messages and Emails with this interface. The app paves way for innumerable operations and all of this becomes easy with it.
Scheduled App works well on all iOS devices and requires iOS 13.0 or later versions. When you have any issues or queries, you can write to the team at support@scheduledapp.com. Download the app today so that your loved ones or business clients could always stay in touch with you.
Worth Having App – Download the App