Zoutons, one of the leading coupons & deal aggregator website in India, recently launches its new mobile application for Online users. Making online shopping easier, you can get a wide view of all the exclusive offers, discounts or deals going at leading stores on this platform. The app will be available for both android and iOS users.
Launched in 2013, the website focusses on quality rather than on quantity and aims to improve the online shopping landscape in India. Now into its fifth year, Zoutons is providing deals and offers for more than 150 online websites, including stores like Amazon, Snapdeal, Flipkart, Paytm, Freecharge, BookMyshow etc as well as catering to nearly 70 categories like online recharge, fashion accessories, Home accessories and others.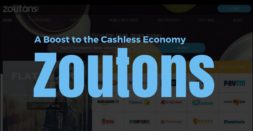 Aim & Vision?
Zoutons has always focused upon the norm of "The Loot is On". The main aim of the establishment is to make online shopping/recharges easier and cheaper at the same time. Amongst the several categories and offers, Online bill payments is one major category which has seen major boost and acceptance over the past year or so. The app focuses to target the increasing marketspace of online recharges and bill payments, and hence offers best coupons and deals on all types of bill payments and recharges. The given category is further classified into DTH recharges, mobile recharges, electricity bill payments, water bill payments, Broadband recharges etc to satisfy specific needs of the customer.
To ensures upgraded user experience with a clean interface, the Zoutons app comes embedded with the following features:
Compact size: Most of the shopping apps and other apps consume acquire a lot of storage space in smartphones. The app is perfectly designed keeping this storage factor in mind. It takes up only 2.7MB space in the mobile which is not at all bad. As it is a light app, there are no issues or bugs that effect the working of the device.
Ease of surfing: It becomes very easy to search for the required categories, stores or offers when you are using a mobile app. Just a few clicks and the task are done. Also, according to whatever you search in the app, the related offers get personalized and the app displays the offers that may interest you.
Instant Notifications: After you enable the app to send you timely notifications, you can get pinged with every ongoing offer that may solve the purpose. You will receive quick notifications about the exclusive offers, sales and discounts being supplied by the leading stores.
Newsletter: Here comes the other good service. When you subscribe the newsletter on the app, you get to go through the best of sales and offers across big e-commerce stores.
Since its inception, the site has been gaining steady momentum, with tie-ups with famous stores such as Amazon, Flipkart, Paytm, Mobikwik as well as popular brands like Adidas, Provogue, Puma and Reebok. From a team of 2, the company has grown people to national rank of 5,315 according to Alexa traffic rankings with an average monthly traffic of 1.5 million pageviews.
With the launch of its app, Zoutons is target to reach a wider online customer, address to individual needs and usage, with an aim of quadrupling the current rankings and traffic. Download the app to get a quick, selective user experience with amazing coupons & offers across the internet. More good points, access it anywhere, anytime and save on your expenses.