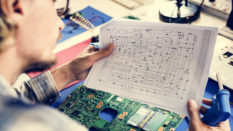 Whether you run a small business or you are just a hobbyist, PCB design is a lot of fun – for a certain type of person anyway. There's plenty of PCB design software on the market today, but choosing between them isn't always easy, especially when you have to pay eye-watering sums to access some of them.
We've done the hard work for you and picked out 4 of the best PCB design software packages available in 2019. Whatever you want to do with your PCBs, this software will make the process much smoother.
PADS
PADS is one of the most popular choices out there for designing PCBs, especially for those who only have limited experience. In fact, the gentle learning curve of PADS is one of its biggest selling points. If you are someone who is easily
overwhelmed by new software, this is a pretty safe bet. PADS has received glowing reviews from both small businesses and hobbyists looking to design their own PCBs.
We would recommend PADS mostly for those who have little to no prior experience in designing PCBs. If you don't have any experience with CAD in general, there's not much PCB design software out there that is quite this user-friendly. To get a feel for what PADS is like, check out these tutorials from Virginia University's School of Engineering.
Altium Designer
Originally known as PROTEL, under which banner it gained a dedicated following, Altium is one of the best PCB design software packages on the market today. In fact, Altium is probably the most widely used PCB design software, embodying everything that makes the best CAD software stand out from the rest of the pack.
Altium
Designer comes with everything you need to get started right away with designing your own PCBs, and its capabilities can be expanded even further with a few simple add-ons. The Allegro PCB importer, for example, can be enabled in Altium to enable you to convert PCB schematics between different file formats. This is very useful if you are working across multiple platforms.
Universities that teach PCB design tend to opt for Altium on their campuses, which might go some way to explaining its popularity. Because so many of those who study the subject formally are trained in Altium specifically, it has become something of an industry standard.
EAGLE
EAGLE – Easily Applicable Graphical Layout Editor – isn't quite as popular as Altium, but is widely used by hobbyists who haven't studied PCB design formally. As the name implies, EAGLE has been designed to be as user-friendly as possible and, while less fully-featured than Altium, is a fantastic choice for any individual
who wants to pursue PCB design and manufacture as a hobby.
EAGLE is much cheaper than most of the other premium software packages on the market today, and it is definitely worth the asking price for the functionality that you get.
ORCAD
ORCAD is one of the oldest and most well-established PCB design packages around today. It first made its debut in the late 80's and has maintained a solid reputation for the last 30 years. Its intuitive interface is something that is sadly lacking from many of its competitors. Another solid choice if you are just starting out.
If you can, try and experiment with a couple of different options before you decide which one you are going to use for the long-term. Finding the right design software is essential if you want to get serious about making your own PCBs.