Bad thoughts are risky and no matter how many times I try to shut them up with wine or even if you watch Netflix they don't let up. I also read that people with poor mind have a tendency to get sleeping pattern issues, insomnia and often depressive mind, I am lucky that I haven't still developed any of those.
I also read that if we bring positive thoughts in life, we become more effective and live a better and pleasant life.
To keep these things at bay and to bring in better thoughts in life, I decided to give it a break and try affirmation, meditation and encouraging app a try.
So I took my phones and started looking for appson Appstore and Playstore (I actively uses both phones) which provide encouraging quotes. I downloaded the app Believe – Daily Affirmations.
There are quite similar apps available in the stores but what attracted me at a glance was its soulful icon which immediately pop-up in front of me in the crowd. Flying butterfly is a symbol of freedom and soulfulness and absolutely fits with the purpose I was looking in these type of apps.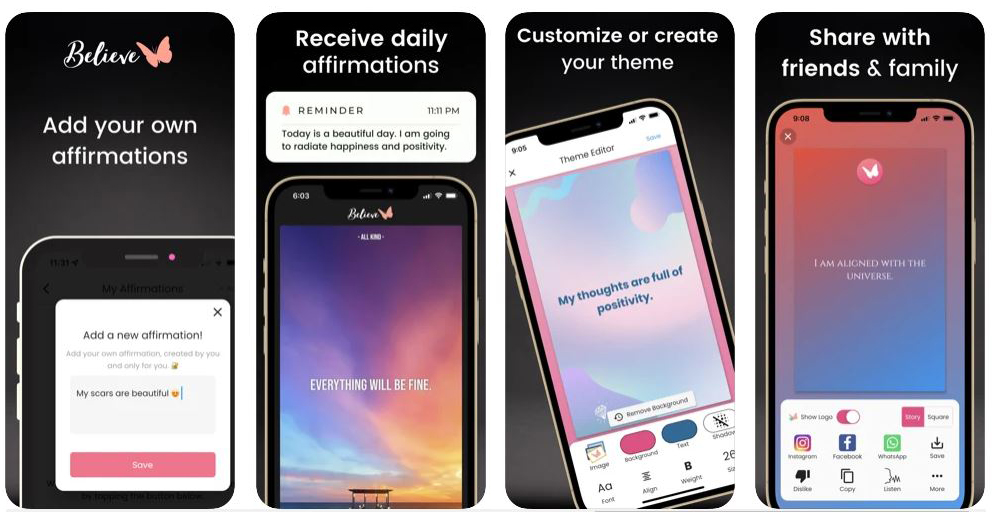 After downloading the app you are taken to the home page where you can discover thousands of affirmation quotes. I have used some similar apps in the past and the reason I removed them was that most of them have dead stock of quotes and limited content however, what surprised me about the app compared to other ones is that this app keeps on adding loads of new motivating quotes on a regular basis so that you can get best of the encouraging moments every day. It has a reminder option where you will get a notification as soon as new quotes are released.
Some of the other features which I liked about Believe:
It also has a collection of some really good fun tools, games, and visual affirmations section called magic centre where you can spend quality fun time while boosting your positivity
The app has a collection of relaxing sounds so that if you are not in a mood to read anything and just want to enjoy some soulful music, you can easily do so without downloading any additional app.
Believe is loaded with over 200+ beautiful themes and functionality to further modify it like changing it with your own images, making gifs, stickers which gives you a truly personalized experience.
After using it for a week, I am definitely feel more motivated and refreshing. I will recommend this app.
Believe is available for a free trail for 7 days where you can access all premium content!
Believe is available on both playstore and Appstore worldwide.
Website : https://believeaffirmations.com/
 Download